What Is Brutal Force?
Brutal Force (BrutalForce.com) is a brand of high-quality natural legal steroids and SARMs alternatives. Their products are gaining popularity among the bodybuilding and sports communities for their ability to deliver gains in muscle size and strength, fat loss, and performance enhancement.
These supplements have been formulated to replicate the effects of performance-enhancement drugs and anabolic steroids.
The use of AAS (androgenic-anabolic steroids) has been the poorly-kept secret of bodybuilders for decades. This is due to one very simple reason – steroids work… and really well.
PEDs are extremely effective and can deliver massive gains in size, strength, endurance, and athletic performance.
However, in spite of the obvious benefits these substances can provide, their use does come with substantial risks. There are numerous adverse effects associated with steroid use that can be damaging and detrimental to your health.
Due to the negative side effects tied to anabolic steroid use, using them is banned in many places around the world. Additionally, they are also banned by nearly every major sports-governing organization.
Likewise, SARMs (selective androgen receptor modulators) are illegal for human consumption and have been banned from virtually all sporting competitions. While these drugs can still be purchased online for "research purposes", they have not been approved for use by the FDA and have very little clinical trials to examine their effects and risks.
To meet the demand for natural, legal, and safe alternatives to these substances, Brutal Force formulated the first line of SARMs alternative supplements.
Do Brutal Force Products Work?
Important – Please Read!
In my opinion, based on my personal experience using these products, Brutal Force supplements do work – BUT (again, based on my experience using legal steroid supplements), the best results come from using the Brutal Force stacks.
Most of the individual products work OK on their own, but not like actual steroids. However, when taken together with other complimentary products, it creates a synergistic effect that is greater than the sum of its parts.
I highly recommend that when purchasing Brutal Force products, and legal steroids in general, that you stick with the brand's stacks, depending on your current goals. For instance, if you're wanting to bulk up and put on more muscle, go with the Bulking Stack rather than just buying one or two packages of SBULK or RADBULK.
If you're trying to burn fat, buy the Cutting Stack; if you're after performance-enhancement, go with the Goliath Strength Stack… you get the picture. Not only will the results be far better, but you will save A LOT of money by purchasing the pre-packaged products together.
Trust me on this, you will thank me later.
Types of Brutal Force Products
Brutal Force supplements can be divided into three key categories: bulking, cutting, and SARMs alternatives. They also sell supplement stack packages targeting these and other areas.
Bulking
These are products that are used during the bulking phase, which is mainly for building muscle mass. Brutal Force legal bulking steroids include:
Cutting
Cutting supplements are used to burn fat and retain muscle mass after the bulking phase, which creates greater definition in physique. These include:
SARMs Alternatives
Brutal Force also offers a unique line of SARMs alternatives. Similar to the effects of SARMs, but with safe and natural ingredients. These include:
Stacks
---
Product Details
Here you'll find details and a quick overview for each product – and I tried them all. If I have a more in-depth review available for any particular product, there will be a link so you can check that out also.
ABULK
ABULK is an impressive imitation bulking steroid by Brutal Force. Formulated to simulate the effects of the potent anabolic drug Anadrol, in my experience this supplement provides a monster boost when it comes to workout results.
ABULK sends more oxygen to your muscles to not only delay the onset of fatigue, but also to give you the power to lift more for longer. When I'm cycling this product, I get massive energy surges, increased performance, quicker recovery, and noticeable gains in size.
If  serious boost to both workout performance and muscle growth are on your wish list, then ABULK will be a must-try for you.
ABULK is Best For:
Those looking for a safe and legal alternative to Anadrol.
Lifting more weight.
Quick muscle growth.
Boosting workout performance.
Increasing energy.
See Also: The Best Natural Steroids for Bulking
---
ACUT
ACUT is a powerful imitation cutting steroid by Brutal Force. Formulated to safely mimic the effects of the powerful cutting steroid Anavar, using ACUT significantly boosted my strength and energy levels during workouts, and accelerating fat loss – all of which leads to a chiseled, cut physique.
Suitable for both men and women, ACUT is scientifically formulated to deliver rapid fat loss for a leaner look, without fatigue or catabolism. When I used ACUT, I noticed it prevented the typical fatigue that can occur during the cutting phase, which helps to preserve lean gains while continuing to increase size and definition.
ACUT is a great cutting product that can help you take your cut to new levels of fat loss – without risking those hard-earned gains.
ACUT is Best For:
Fat reduction.
Boosting both strength and energy.
Preservation of lean muscle mass.
Quick results.
Both men and women looking to get hard bodies.
See Also: The Best Natural Steroids for Cutting
---
ANDALEAN
ANDALEAN is a powerful natural SARM by Brutal Force that attempts to replicate the effects of Anadrine S-4. It works by packing on size, boosting strength and stamina, improving muscle mass, and burning through unwanted fat.
ANDALEAN promotes muscle building by increasing ATP levels for improved strength, power and performance during resistance training. ANDALEAN also controls blood sugar levels to minimize fat gain.
It also  improves strength and energy by stimulating phosphocreatine synthesis within your muscle tissue. This means you'll shed fat while retaining lean muscle, giving your body a lean and cut look.
While taking this product, I definitely noticed less muscle soreness and fatigue, with faster muscle growth. Great for both men and women, ANDALEAN gives you more power for working out while incinerating excess fat, leaving only pure, lean muscle and a ripped physique.
ANDALEAN is Best For:
Gains in strength
Building lean muscle mass.
Burning off body fat.
Decreases in recovery time.
Getting past max lifts and plateaus.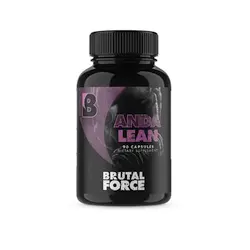 ---
CARDALEAN
CARDALEAN  is a safe and legal alternative to Cardarine, a performance-enhancing SARM-like compound used by bodybuilders. CARDALEAN zeros-in on fat cells, boosts endurance, and promotes a vascular appearance.
CARDALEAN gives that vascular look by increasing nitric oxide levels, which delivers more oxygen and nutrients to your muscles. While using CARDALEAN I saw increases in vascularity, awesome pumps and a noticeable improvement in endurance which allowed me to train harder and longer than before.
If you want to experience rapid fat loss, greater endurance, and a vascular look that will turn heads – but without harmful side effects – then grab a bottle of CARDALEAN and give it a try.
CARDALEAN is Best For:
Rapid fat loss
Protecting muscle gains.
Endurance enhancement.
Increased vascularity.
Boosts in nitric oxide levels.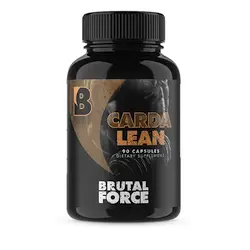 ---
CCUT
CCUT is a simulated version of the thermogenic and performance-enhancing drug Clenbuterol, a well-known favorite cutting steroid of bodybuilders. CCUT is formulated to remove fat and help build a shredded physique during the cutting phase, and is one my favorite legal cutting steroids.
CCUT creates powerful thermogenic effects you can feel, that melt away stubborn fat stores, at the same time delivering high levels of workout energy and stamina and preserving precious muscle mass. Plus, CCUT enhances cardio performance by boosting oxygen transport, so you have more intensive workouts that inevitably result in a lean and ripped body.
For bodybuilders and athletes looking for steroid-like benefits without the associated risks, I find CCUT to be in a class by itself, and it's the best cutting steroid alternative for promoting dramatic and rapid weight loss in a safe and legal way.
CCUT is Best For:
Rapid fat loss.
Boosts in energy for more intense workouts.
Reducing cravings and suppressing appetite.
Increased cardiovascular performance.
See Also: My Full CCUT Review
---
CUTSR9
CUTSR9 is a natural alternative to Steanabolic (SR9009), a fat-burning SARM-like compound. I found CUTSR9 to be a potent cutting supplement that optimizes the metabolism for increased stamina, endurance, and workout capacity.
CUTSR9 reduces the amount of glucose that your body would normally store as fat, while also revving up the metabolism to decrease the fat that's already stored. When the body is burning off fat in high gear, there's only one place that excess energy can go, and huge gains in both stamina and endurance were definitely noticeable after using CUTSR9.
CUTSR9 also produces an anti-inflammatory effect that promotes fast recovery after intense workouts. Based on my use of CUTSR9, it fired up my metabolism, helped burn fat, and allowed me to train harder for longer and recover faster than normal.
CUTSR9 is Best For:
Accelerated fat loss.
Metabolic enhancement.
Boosts in stamina and endurance.
Improved recovery times.
Preventing inflammation.
---
DBULK
DBULK is a powerful natural bulking steroid by Brutal Force that replicates the effects of Dianabol. Like most effective bulking steroids, this product delivers excellent increases in strength and size, as well as boosting muscle strength and recovery.
If near-instant results without the harmful side effects of PEDs is your idea of a great supplement, DBULK will not disappoint. Using DBULK not only helps to increase my gains, it also help support and maintain the gains I worked my ass off to get.
It's no wonder why DBULK is Brutal Force's best-selling product – it legally and effectively gives similar results to those normally only seen with banned substances.
DBULK is Best For:
Quickly building new muscle.
Increased lifting power.
Quicker post-workout recovery.
Men who want to ramp up testosterone levels.
---
DEKABULK
DEKABULK is a very effective, safe, and legal alternative to nandrolone decanoate, also known as Deca-Durabolin. DEKABULK helps to regulate the amount of stress your muscles undergo during training, allowing you to push past your training plateaus without worrying about extended recovery times.
Thanks to the additional blood flow to my muscles and optimized testosterone levels, I experienced explosive strength and stamina gains while using DEKABULK. The effective combination of nitrogen retention and increased number of red blood cells enables the body to utilize more protein and grow more muscle, and it had me training harder for longer – with awesome results.
If you're after next-level workouts, extreme strength and muscle gains, and guaranteed pumps, then I absolutely recommend DEKABULK.
DEKABULK is Best For:
Powerful pumps.
Explosive energy, power, and strength.
Reduced recovery time and easing joint/tendon pain.
Big, quick muscle gains.
---
GCUT
GCUT is not your typical cutting supplement – in fact, it's formulated to specifically target chest fat and enlarged male breasts (gynecomastia). GCUT naturally optimizes your hormones to quickly and effectively remove down stubborn chest fat for a strong, hard chest you'll be proud of.
GCUT attacks man boobs at the source, targeting chest fat to help you to quickly decrease those embarrassing curves that you keep hidden underneath your shirt. It works by rebalancing your hormones to boost testosterone, while simultaneously decreasing estrogen – the main culprit in gynecomastia.
GCUT rebalances your hormones, melts chest fat, promotes muscle building and kick starts your libido. It can give you a renewed sense of confidence so you'll never have to worry about taking off your shirt again.
GCUT is Best For:
Men with gynecomastia.
Reducing chest fat.
Improving the pectoral area.
---
HBULK
HBULK is Brutal Force's safer alternative to Somatatropin, a synthetic injectable form of HGH. This product delivers many of the performance-enhancing, muscle-building effects of the real deal, without the negative downsides.
Human growth hormone is naturally produced by the body to trigger muscle growth and increase the body's use of fat. Although HGH levels rapidly diminish with age, using specific amino acids can help the body secrete more HGH.
HBULK contains a unique combination of amino acids and other ingredients that trigger HGH production to boost the body's ability to build strong, lean muscle and burning through fat stores. Firing up muscle growth and shredding through fat stores for a bigger, leaner physique and reduced recovery times.
You don't need to endure harmful side effects to get results. HBULK is for you if you want to get the most out of workouts and go heavier for longer, for a pumped-up, ripped physique.
HBULK is Best For:
Gains in quality muscle.
Enhanced performance.
Anyone looking for a safe Somatropin alternative.
A ripped physique.
Accelerated muscle recovery.
See Also: Our List of the Top-Rated Human Growth Hormone Supplements
---
IBUTALEAN
IBUTALEAN is the most potent substitute available for the SARM-like compound Ibutamoren (MK677). It provides many of the performance-enhancing and rapid recovery effects of the original, with no adverse effects.
Similar to HBULK, IBUTALEAN triggers HGH production to promote the growth of new muscle mass while losing the fat. IBUTALEAN is also an anti-inflammatory that allows you to lift heavier weight without worrying about joint pain and muscle soreness.
And because IBUTALEAN accelerates the body's healing process, it lets you come back bigger and stronger than ever before.
After trying this product myself, I was convinced by the results. If you're looking to get the growth-enhancing effects of Ibutamoren in a safe and legal way, IBUTALEAN is a SARMs alternative with many of the same anabolic effects.
IBUTALEAN is Best For:
Huge muscle gains and a ripped physique.
Anti-inflammatory effects.
Accelerated healing and recovery.
Performance enhancement.
---
LIGABULK
LIGABULK is formulated to imitate the potent SARM Ligandrol without any of the risks or adverse effects. However, LIGABULK will not decrease the natural production of testosterone, unlike Ligandrol.
LIGABULK includes active testosterone-boosting compound that fight fatigue and deliver energy on demand. Plus, its ingredients increase natural growth hormones in the body, for significant muscle gains.
LIGABULK also contains anti-inflammatory effects that ease joint pain and speed up muscle recovery.
In my opinion, this potent performance-enhancing tool is an excellent choice for anyone who's serious about increasing muscle size and strength, reducing joint pain and accelerating recovery.
LIGABULK is Best For:
Quality muscle growth and enhanced strength.
Greatly reducing recovery time.
Preventing inflammation of joints and tendons.
Increasing testosterone levels.
---
OSTABULK
OSTABULK is perfect for those looking for a safe, legal alternative to the popular SARM Ostarine – but has none of the nasty side-effects. Based on my own experience, OSTABULK can give you some of the best workouts of your life, increasing the growth of lean muscle mass while melting away unwanted fat.
OSTABULK mimics the anabolic properties of Ostarine to trigger a rapid increase in muscle strength and size. The formula includes powerful testosterone boosting ingredients to improve muscle composition and enhance muscle strength.
Designed to also rebuild muscle mass post-workout, OSTABULK contains nutrients that deliver a boost to muscle growth and an increase in bone strength and density.
If you want rapid gains in strength and size then this potent anabolic supplement should be kept in regular rotation. OSTABULK is an exceptional product for gaining size, strength and power.
OSTABULK is Best For:
Gains in quality muscle and increased strength.
Boosting testosterone levels.
Shedding unwanted fat.
Those who are stuck getting gains and hitting plateaus.
---
RADBULK
RADBULK is a powerful substitute for the SARM RAD-140 (Testolone), and gives a powerful metabolic boost that reduces fat levels while building rock-hard, lean muscle mass. RADBULK was designed to imitate the anabolic benefits of TESTOLONE with none of the risks or side effects.
One part performance enhancer and one part fat burner, RADBULK increases fat oxidation, giving muscles the necessary energy they need to work and grow. The RADBULK formula also promotes acetylcholine synthesis , a neurotransmitter which enhances mental focus during intense physical training.
Not only does this product boost metabolic function for accelerated fat burning, it also acts as an anti-inflammatory, which helps to decrease recovery periods.
I found RADBULK to be really great at increasing lean body mass without gaining additional fat. When combined with the decreased periods of recovery, it also delivered noticeably better pumps and enhanced vascularity.
RADBULK is Best For:
Gains in lean muscle and quick fat loss.
Reducing recovery time.
Enhanced vascularity.
Maximum strength and endurance.
---
SBULK
SBULK mimics the drug Sustanon and will send your t-levels sky high. This product naturally increases the amount of free testosterone available to the body, dramatically increasing muscle growth, strength, and energy.
SBULK includes an amino acid regulator that optimizes hormone production, including luteinizing hormone. This triggers testosterone production, leading to the growth of lean muscle mass and a general increase in strength and stamina.
Taking this product gives me noticeable boosts in size, strength, mood and sex drive. I routinely cycle SBULK and keep it in regular rotation with a handful of my other go-to testosterone boosters, and it never fails to deliver.
SBULK is Best For:
Increasing testosterone
Gaining quality lean muscle mass
Enhancing performance
Improving mood and mental function
Lowering body fat
Increasing sex drive
---
TBULK
TBULK is designed to replicate the effects of the steroid Trenbolone to accelerate the growth of lean muscle mass and trigger fat loss.
I like to use this supplement whether I'm bulking or cutting, and I consider to be an excellent all-around legal steroid alternative for just about anyone's needs.
Just like Trenbolone, TBULK can increase muscle mass, torch body fat, and improve vascularity. It does this by actively decreasing your estrogen levels and increasing testosterone to build muscle and break down stubborn fat.
It also has extended health benefits with added prostate, immune and digestive health support.
If you're looking for a complete bodybuilding supplement that not only cuts fat but also builds lean muscle mass, this is it. TBULK will support your goals without the harmful side effects you often get with steroids.
For optimal results, stack TBULK with SBULK – it's the perfect combination for awesome results.
TBULK is Best For:
Bulking and cutting
Building muscle and burning fat
Improving conditioning
Balancing estrogen levels
Supporting the immune system
---
WINCUT
WINCUT a safe and legal alternative to the steroid Winstrol (Stanozolol). Suitable for both men and women, it can be used during cutting cycles for quality, strong muscle growth and a lean appearance without bulk.
WINCUT delivers many of the performance enhancing benefits of Winstrol, with none of the adverse side effects or risks. This allows you to not only keep from losing muscle during your cut, but also to continue packing on lean muscle mass.
It also converts stored body fat into energy for a huge boost to stamina, allowing for training at high intensity – even while cutting.
WINCUT cranks up your metabolism, helping to melt body fat with ease. Great for sculpting a beach-ready physique, it's a powerful tool for anyone wanting an edge when it comes to chiseled abs and well-defined cuts.
WINCUT is Best For:
Quickly burning body fat
Boosting metabolism
Both men and women
Targeting abdominal fat
Extreme stamina
---
YKBULK
YKBULK is a natural alternative meant to mimic the effects of the SARM YK-11. This product provides many of the same benefits to muscle mass, strength, and recovery as YK-11 , but with none of the risks or side effects.
YKBULK was designed to rival the effects of illegal anabolics, supporting the rapid growth of new lean muscle mass. When using this product I also noticed increased muscle hardness, giving me that "cut and dry" appearance.
YKBULK helps you to push more weight and to boost workout performance while also enhancing muscle recovery and reducing fatigue.
If you're looking for a natural alternative to SARMs that delivers powerful results with no negative side effects, then YKBULK is a good choice.
It provides better workouts, faster recovery times and high quality muscle gains.
YKBULK is Best For:
Building muscle mass
Maximum strength gains
Enhanced performance
Reducing muscle fatigue
---
Stack Product Details
Beast Stack (2-Cycle Stack)
Best For: Bulking and cutting – Increased muscle mass, fat loss, strength and stamina
Includes (Bulking Cycle): 1 Each of SBULK, HBULK, ABULK, DEKABULK, DBULK
Includes (Cutting Cycle): 1 Each of ACUT, CCUT, TBULK, WINCUT
Check Current Price for the Brutal Force Beast Stack
---
Bulking & Cutting Stack
Best For: Bulking and cutting – Increased muscle mass, fat loss, workout performance
Includes: 1 Each of DBULK, TBULK, SBULK, ABULK, CCUT
Check Current Price for the Brutal Force Bulking & Cutting Stack
---
Definition Stack
Best For: Cutting stack for men – Rapid fat loss, preserving muscle mass, increased power and stamina
Includes: 1 Each of WINCUT, TBULK, SBULK, ACUT, CCUT
Check Current Price for the Brutal Force Definition Stack
---
Goliath Strength Stack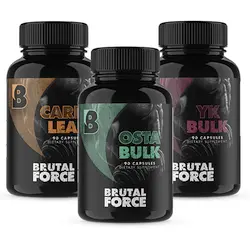 Best For: Strength and size- Increased muscle growth, testosterone, and vascularity
Includes: 1 Each of OSTABULK, YKBULK, CARDALEAN
Check Current Price for the Brutal Force Goliath Strength Stack
---
Ironbound Bulking Stack
Best For: Bulking – Increased testosterone, muscle mass, fat loss, and workout performance
Includes: 1 Each of RADBULK, LIGABULK, OSTABULK, YKBULK
Check Current Price for the Brutal Force Ironbound Bulking Stack
---
Mass Stack
Best For: Bulking and cutting – Increased strength, stamina, endurance, and workout performance
Includes: 1 Each of DBULK, ABULK, SBULK, HBULK, DEKABULK
Check Current Price for the Brutal Force Mass Stack
---
Ripped Cutting Stack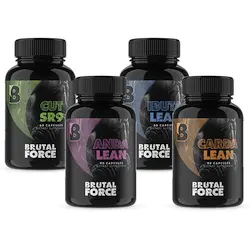 Best For: Cutting – Rapid fat loss, muscle preservation, performance enhancement
Includes: 1 Each of CUTSR9, ANDALEAN, IBUTALEAN, CARDALEAN
Check Current Price for the Brutal Force Ripped Cutting Stack
---
Select Stack
Best For: Bulking and cutting – Increased muscle mass, fat loss, workout performance
Includes: 1 Each of RADBULK, OSTABULK, CARDALEAN
Check Current Price for the Brutal Force Select Stack
---
Sculpt Stack
Best For: Cutting stack for women – Rapid fat loss, retaining muscle, increasing strength
Includes: 1 Each of ACUT, WINCUT, CCUT