Last Updated on August 16, 2023 by Jim Marshall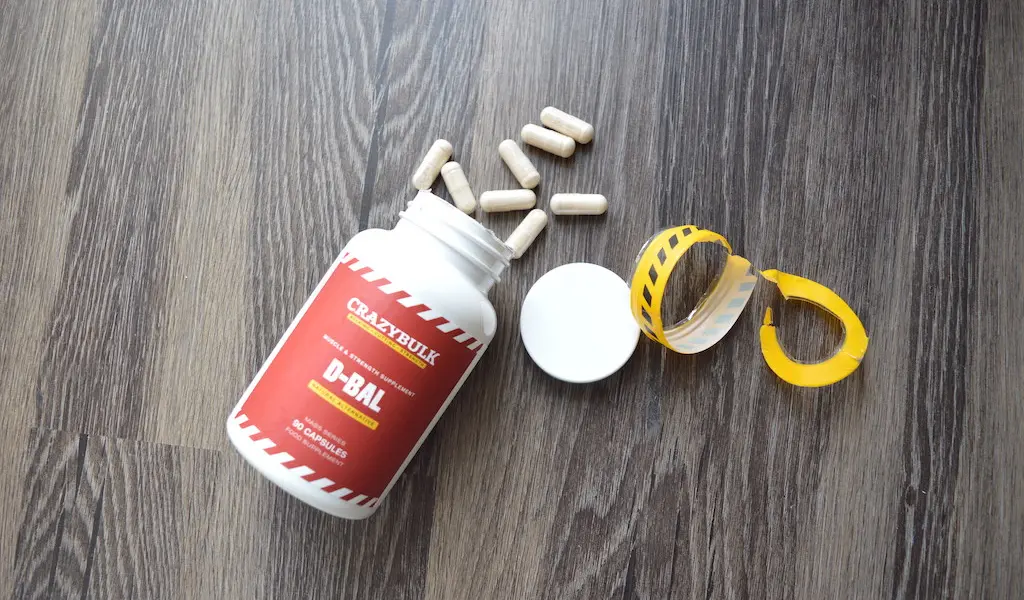 ---
Rating:
| | |
| --- | --- |
| | |
Results:
Noticeable gains in muscle mass.
Experienced increased strength, stamina and power.
Saw moderate fat loss.
Post-workout recovery was a breeze.
Don't expect effects like real Dianabol, though.
---
What Is CrazyBulk D-Bal?
CrazyBulk D-Bal is an all-natural legal steroid supplement for muscle growth. Formulated to imitate the effects of the potent steroid Dianabol, D-Bal can be safely and legally used as an alternative to traditional steroids.
D-BAL promotes rapid muscle growth and strength gains, and also helps to boost testosterone levels. Like all CrazyBulk products, D-BAL is made from natural herbal ingredients, and is formulated to burn fat, increase muscle mass, helping you to achieve a physique that will turn heads.
Keep reading my D-BAL review to see how it works, who it's for, what's in it, side effects, where to buy and more.
How Does CrazyBulk D-Bal Work?
The people at CrazyBulk created a special formula that does more than increase strength and muscle mass. D-Bal's unique formulation assists you in several key areas for gains as well as recovery.
For starters, they updated the formula to make it 700% stronger and added several potent ingredients to the blend. For example, ashwagandha, which boosts your VO2 max, helps with total body fat reduction, builds lean muscle while bulking… and it can even lower your cholesterol!
The new and improved formula also includes MSM to minimize muscle soreness, hyaluronic acid to accelerate the healing of bones and tendons, and several other potent ingredients. Not surprisingly, this supplement is CrazyBulk's best seller.
Let's take a closer look at all of the ingredients included in the D-BAL formula.
Ingredients
D-BAL was designed with safe and natural ingredients that target several areas related to muscle growth and workout performance, including rapid muscle gains, improved strength and stamina, and greater drive and focus. Here is a brief look at each of the active ingredients included.
Vitamin D3
Vitamin D3 is naturally produced by the body from sun exposure, and can also be found in some foods, such as fatty fish, cheese, beef liver, and egg yolks. There is some evidence that Vitamin D3 may increase testosterone levels.(1)
This ingredient helps protect against inflammation and increases bone health and density. Vitamin D3 also improves muscle health and boosts VO2 max, which is the maximum rate of oxygen consumption during high-intensity exercise.(2)
Magnesium
Magnesium activates the enzymes required for several physiological functions, such as cardiac function, neuromuscular contractions, and regulating pH balance in the body. This key mineral supports metabolic function and the utilization of many necessary nutrients, like vitamins B6, C, and E.
Magnesium is required for metabolizing carbohydrates, amino acids and fats. It is also necessary for energy production and the utilization of potassium, sodium, calcium, and phosphorus.
Magnesium promotes flexibility of the muscles to protect them from injury. Magnesium deficiency may lead to muscle cramps and pain after working out.
MSM
MSM, or Methylsulfonylmethane , is a chemical normally found in green plants, animals, and humans, but it can also be manufactured in labs. People use MSM to help with osteoarthritis, and it's also used to treat swelling, aging skin, joint pain, and many other conditions.(3)
MSM is a natural mineral that can help reduce the oxidative stress in your body. MSM increases blood flow to muscles and helps them recover faster, so it's perfect for athletes or anyone recovering from an injury.
L-Isoleucine
L-Isoleucine, one of the essential amino compounds that can't be made by the body, is also a BCAA (branched-chain amino acid). It is often used in pre-workouts supplements and other products containing BCAAs.
L-Isoleucine is typically found in foods with high protein content, such as meat, fish, eggs, cheese, lentils, and nuts. This ingredient promotes healthy muscle metabolism, builds muscle, bolsters immunity, increases blood cell count, and regulates energy.
Suma Root Concentrate
Suma, also known as Brazilian Ginseng , is a type of vine root found in South American rain forests, and has been used as a traditional medicine to balance many body systems.
Suma is considered an adaptogen, meaning it helps the body cope with stress better, promote cell regeneration, and protect against diseases. Suma also regulates and normalizes the nervous, digestive and cardiovascular systems.
Suma root has 19 amino acids and trace minerals including iron, magnesium and zinc. It has been called "the Russian secret" because it's been used by Russian Olympic athletes to increase muscle-building and endurance for many years.
Ashwagandha
Ashwagandha is an adaptogenic herb that supports the nervous and endocrine systems and promotes a natural sleep cycle. As a nourishing tonic, Ashwagandha can help the body adapt to stressful conditions.
This ingredient also helps to burn body fat and increase strength by minimizing the effects of stress on the muscles. Ashwagandha also enhances memory and cognitive function.
Tribulus Terrestris
Tribulus Terrestris is a natural plant extract that has been shown to help with muscle building. Tribulus mimics the effects of testosterone, the anabolic hormone that regulates muscle growth and strength.(4)
Besides muscle growth, tribulus also helps men increase their energy, stamina, and sex drive. What's more, tribulus has also been shown to increase blood flow and vascularity even more than L-arginine supplements.
Hyaluronic Acid
Also called sodium hyaluronate or hyaluronan, hyaluronic acid  is a clear substance that is naturally produced by the body. This ingredient is found in the skin, eyes and connective tissues,  and helps speed up healing of the bones and tendons.
Benefits of Using CrazyBulk D-BAL
Rapid Muscle Growth – The ingredients used in D-BAL are designed to nourish and support muscle growth, by delivering more blood, oxygen and nutrients to muscle tissues.
Boosts Strength – D-BAL provides higher levels of natural energy, allowing you to push past your normal limits at the gym.
Decreases Body Fat – Using this product will promote fat loss and produce an anabolic impact on the muscles for greater overall size. Fat reduction also reduces water retention in the muscle tissues, leaving you with hard, lean muscle.
Increases Testosterone – Natural testosterone-boosting ingredients such as Ashwagandha are included in D-BAL's formulation. Increases in this important male sex hormone lead to rapid gains in muscle growth and strength.
Speeds Up Recovery Time – Several ingredients included have been clinically shown to speed up the body's recovery and muscle repair between workout sessions. This allows you to bounce back at the gym with full intensity every time.
Boosts Energy Levels – This product can increase energy levels and make workouts more productive. It also gives you sharper focus, increased self-confidence, and more energy to do other tasks outside of the gym.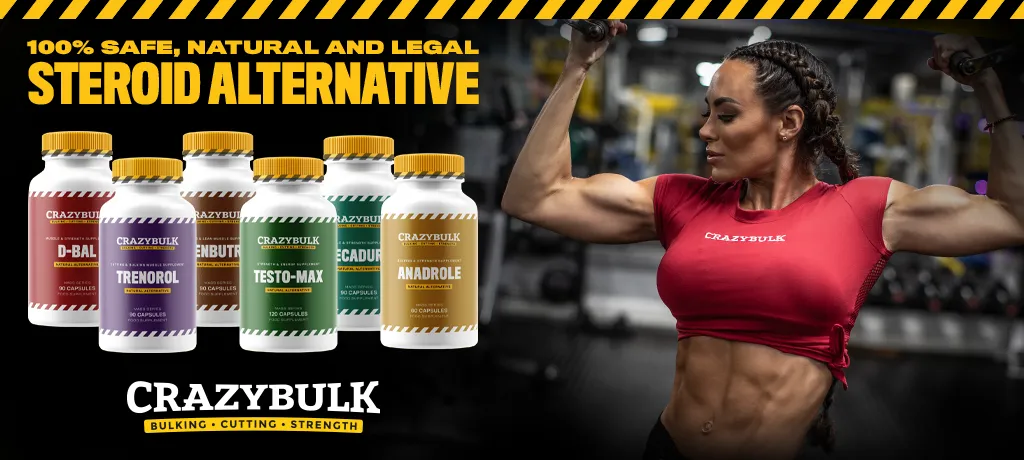 Who should use D-Bal?
D-BAL is ideal for people who have workout experience and have hit a plateau, and for those who not wanting to use harmful illegal steroids. If you're a newbie just starting out, I would recommend that you wait until you have been training for at least 3-6 months before using it.
Beginners usually enjoy quick and noticeable results at first, so taking a product like this at that time would not be the best use of your money. The best time to start using D-BAL is when you reach a sticking point in your gains.
I also strongly recommend that you follow a suitable diet and training program before taking  products like D-BAL. They won't do much for you if you're not serious about putting in the effort.
Dosage and Directions
The suggested D-BAL dosage is three capsules taken with water approximately 45 minutes after your training session. For best results, cycle 8-12 weeks on with 2-4 weeks off.
You should also use this product while following an appropriate diet and workout program.
Side Effects
The ingredients in D-BAL do not appear to be harmful or dangerous, and users have not reported any negative side effects or adverse reactions while using this product. It is not toxic to the liver or kidneys, and won't elevate blood pressure.
Where to Buy D-BAL
CrazyBulk DBAL can be purchased online at the official CrazyBulk website at the following prices:
The price for one bottle is $59.99
Two bottles (plus 1 free bottle) is $119.98
They currently have a great deal where when you buy two bottles, you'll get a third bottle for free. In fact, if you purchase three or more of any products, you'll get the lowest-priced product for free.
Shipping is free to anywhere in the world, and orders are shipped within 24-48 hours of purchase.
Also, if you're unhappy with the product for any reason, they offer a 100%, 60- day money-back guarantee for any used or unused bottles. All you have to do is submit a refund request to customer support via email within 67 days of receiving the product.
Conclusion – Does D-BAL Really Work?
I've been taking D-BAL on and off for over a year now, and it definitely is working for me. After getting in a rut with my gains, it made a huge impact.
For me personally, it takes less time to see results and really helps to maintain and increase size and muscle mass. The boost in testosterone it gives allows me to get better sleep at night and more strength and energy during the day.
One more positive impact that I personally noticed was the elimination of excess fat. With increased workout intensity, my body sheds the extra fat stores in order to meet the added energy requirements.
That said, this product does not compare to actual Dianabol – if it did, it would probably be illegal and come with a lot of side effects. It's more like Dianabol's kid brother, not the real deal, but a good substitute.
Pros
Affordable, especially with the buy 2-get-1-free deal.
All natural ingredients
Rapid muscle growth, fat loss, strength gains and recovery.
Safe and legal to use
No side effects
Provides additional benefits, like increased t-levels and improved focus.
Vegetarian and vegan friendly
Cons
Results not as noticeable for those new to training.
Needs to be used for 2-3 months for best results.
Not available in retail stores.
In my opinion, if you're looking to sculpt a killer body, then this is the product to go for. Forget the conventional steroids that have dangerous side effects and grab three bottles of D-BAL.
There will be no turning back once you experience for yourself a finer physique, more energy, a higher sex drive, greater stamina, and more focus.
FAQS
Is CrazyBulk D-BAL a Steroid?
No, D-BAL is a safe and legal alternative to steroids. This product is made to imitate the effects of the powerful steroid dianabol, but is free from any dangerous substances and is made with all-natural ingredients that do not cause any harm to the body.
How Long Does It Take to Work?
Noticeable results are usually seen within 6-8 weeks of use. However, individual results may vary. Best results are experienced with 2-3 months of use.
Are the Results Permanent?
Yes, so long as you maintain a regular training program and observe an appropriate diet and meal plan, you should be able to retain all of your gains.
Where Can I Buy D-BAL?
This product is only available for purchase online and should be ordered directly from the manufacturer website in order to ensure its authenticity.
What are the payment options available?
Currently, all major credit cards are accepted, as well as Apple Pay, Sezzle, and Mollie. Orders are fully safe, private, and secure.
---
References
https://malehealthreview.com/vitamin-d-benefits-for-men
https://ods.od.nih.gov/factsheets/VitaminD-HealthProfessional/
https://medlineplus.gov/druginfo/natural/522.html
https://pubmed.ncbi.nlm.nih.gov/17530942/
D-BAL
Builds Muscle Mass
9.6/10
Increases Strength and Power
9.6/10
Pros
Effectively helps increase lean muscle mass.
Increases physical stamina, strength & power.
Speeds up healing and recovery rate.
Accelerates weight loss.
Cons
Similar, but not as effective as actual Dianabol.
Not available in stores.
For best results, may require 8-week cycle.