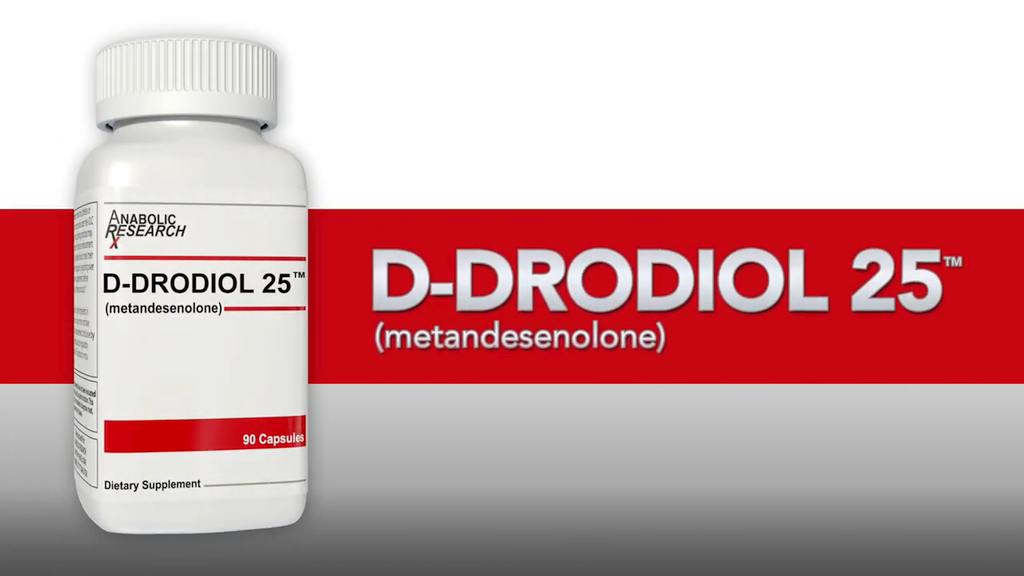 ---
Rating:
| | |
| --- | --- |
| | |
Results:
Accelerated muscle growth & recovery.
Saw increased size & power.
Experienced decent amount of fat loss.
Greater endurance & stamina.
Not as potent as actual Dianabol, but still effective.
---
What is D-Drodiol 25?
D-Drodiol 25 is made by Anabolic Research and is a natural alternative to the popular steroid Dianabol.  Formerly sold under the names D-Anabol and D-Bol, his product is a legal steroid for bulking and muscle growth.
D-Drodiol 25 closely mimics the effects of the steroid Dianabol but without the negative side effects. This potent supplement acts very much like an oral steroid for bodybuilding, allowing you to more easily increase muscle mass, size, and strength.
D-Drodiol 25 is formulated with a unique and powerful blend of ingredients that work to effectively stimulate rapid muscle growth. Not only is it excellent for increasing muscle mass, it also helps with preventing fatigue, boosting stamina, and accelerating your metabolism.
Ingredients
When it comes to legal steroids, the ingredients used in any formulation are the key to its effectiveness. D-Drodiol is made with a blend of powerful working ingredients to ensure that the stimulation of muscle growth and other benefits claimed are backed up with actual results.
D-Drodiol contains a combination of proven, high-quality ingredients like fenugreek, rhodiola, cyanotis vaga extract, inosine, and Clary sage leaf. Here's a breakdown of the active ingredients included in the D-Drodiol 25 formula:
L-Arginine HCL – L-arginine is an amino acid found in meat, poultry, and dairy products. In the body, arginine is converted into nitric oxide, which helps dilate blood vessels and increases blood flow. It boosts strength, athletic endurance, weight loss, immunity, and cardiovascular health, and reduces inflammation, among many other benefits. L-Arginine HCL is the L-Arginine amino acid combined with Hydrogen chloride, allowing the l-Arginine to be better absorbed by the body.
Rhodiola Root Powder – Rhodiola helps fight fatigue and supports enhanced physical and cognitive performance by can stimulating production of ATP (adenosine tri-phosphate) and creatine phosphate, which are your muscles' main energy source for explosive contractions. Rhodiola can also reduce your body's release of the hormone cortisol, a catabolic hormone that breaks down tissue — the exact opposite of what you want when looking to build mass. Rhodiola rosea can also increase your levels of anabolic hormones like testosterone, leading to improved growth and recovery.
Fenugreek Seed Extract – Fenugreek significantly improves muscle strength and weight lifting power output and even has anti-cancer properties. Clinical studies show that fenugreek has a significant impact on both upper- and lower-body strength and body composition with observable side effects. In fact, those participants who took this supplement were able to leg press an extra 100 lbs. compared to those who didn't.
Cyanotis Vaga Extract – A plant rich in

ecdysteroids

, a powerful natural anabolic agent used to enhance athletic performance. From extensive clinical research in animals and humans, ecdysteroids have been shown to increase protein synthesis and muscle growth, delay fatigue, and accelerate recovery.
Inosine – Inosine is a metabolic activator used by world class power-lifters. Naturally produced by the human body, inosine closely resembles adenosine, which is part of adenosine triphosphate (ATP), the muscle's energy source during exercise. Inosine is popular with athletes who focus on strength, endurance, and sports performance.
Clary Sage Leaf Extract – Clary sage contains sclareolides which help build lean body mass and increase fat loss, while simultaneously balancing out estrogen levels in the body. This herbal extract helps to prevent many health conditions, including gynecomastia (man boobs), loss of muscle mass, fatigue, low sex drive, erectile dysfunction, and weight gain in the form of subcutaneous and visceral fat which surrounds the organs.
A full list of ingredients and other information can be found at the Anabolic Research website.
How it Works
Each of the components included in the one-of-a-kind formula offers a specific benefit, and when combined the overall results are surprisingly good.
For starters, D-Drodiol 25 helps boost the body's natural production of testosterone. As you probably already know, testosterone is a powerful male hormone that not only directly impacts muscle mass but regulates many facets of health and fitness, including strength and stamina, libido and sexual performance, mood and mental function, and many others.
This product also increases nitric oxide levels, causing your blood vessels expand, allowing more oxygen- and nutrient-rich blood to flow to your muscles. It improves ATP production as well, providing energy to muscles and making them more efficient, boosting strength and stamina.
And that's not all. D-Drodiol increases protein and glycogen delivery to the muscles and enhances recovery after workouts. It also boosts energy, optimizes hormonal levels, increases endurance, enhances mental function, and even promotes weight loss.
Yes, this product does all of that.
D-Drodiol Benefits:
An all-natural, safer alternative to Dianabol.
Rapid increases in lean muscle mass.
Elevated testosterone levels.
Increased nitric oxide & nitrogen retention for muscle growth & repair.
Noticeable increases to endurance and stamina.
Quicker post-workout recovery.
Side Effects
Many supplements used to enhance bodybuilding or athletic performance come with a variety of side effects, such as digestive issues, bloating and water retention. Because of the safe, natural ingredients included, the vast majority of people using this product will not experience side effects.
That said, it is possible that a small percentage of people may experience effects such as elevated body temperature, increased heart rate, sweating, restlessness, higher energy levels and/or shakiness. It's important to point out that these issues are rare, but possible for some.
I have personally used D-Drodiol 25 many times, often for several weeks at a stretch, and have never had any negative side effects whatsoever. It's also important to use the product as indicated, and follow the directions for use and dosage.
As with any supplement, you should always talk it over with your doctor if you have any health issues or medical concerns.
Directions
Take 1 capsule 3 times per day with 8 oz. of water. Doses should be evenly spaced throughout the day.
This product contains 90 capsules and is designed to be used as a 30 day cycle. For more information about D-Drodiol 25 and it's use, visit the Anabolic Research official website.
D-Drodiol Price and Purchase Information
One bottle of D-Drodiol contains 90 capsules and is designed to be taken as a 30 day cycle.
One bottle of D-Drodiol is normally $100. With the current deal being offered, you can save $15 off of the normal price and pay just $85.00.
When you purchase two bottles of D-Drodiol, you'll receive 1 free bottle at no additional charge. With this deal you pay only $170.00 compared to the retail price of $300.00. All orders are shipped from the USA and international shipping is available.
Click Here to Get a Free Bottle of D-Drodiol
Bottom Line
Just to review, this product is rated highly due of the following benefits:
D-Drodiol is an all-natural, safe alternative to Dianabol.
D-Drodiol rapidly increases lean muscle mass.
It safely elevates testosterone levels.
Increases nitric oxide and nitrogen retention for muscle growth and repair.
Delivers noticeable increases to endurance and stamina.
As an oral steroid alternative, D-Drodiol does not require injections.
This product also supports recovery after workouts.
When it comes to the very best legal steroids, D-Drodiol is definitely at the top of the list. Because it's a natural supplement that mimics the effects of steroids, it's frequently used among bodybuilders and athletes.
I have used this product off and on for a while now, and it's one of the best muscle building supplements I have ever taken. We're talking pounds of muscle mass in just a few short weeks.
When I first started D-Drodiol the gains came fast and everyone around me was noticing. I'm sure a few people even suspected that I was juicing.
And while there are no short-cuts when it comes to putting in the effort at the gym, or maintaining a proper diet, this product will dramatically – and rapidly – accelerate your progress. Not only will you be working out at more intensity than before, increasing your lift weight and reps, but your results will speak for themselves.
---
See Also: Our Full List of Recommended Bulking & Muscle Growth Steroid Alternatives
---
Rating
D-Drodiol 25
Increases Muscle Mass & Size
9.6/10
Greater Stamina & Endurance
9.6/10
Faster Recovery & Healing
9.4/10
Explosive Lifting Power
9.4/10
Pros
A safe and natural alternative to Dianabol with no side-effects.
Dramatically increases lean muscle mass.
Boosts stamina, endurance, and power.
Significantly reduces recovery time between workouts.
Buy 2 Get 1 FREE.
Cons
A little pricey.
Similar, but not as powerful as actual Dianabol.