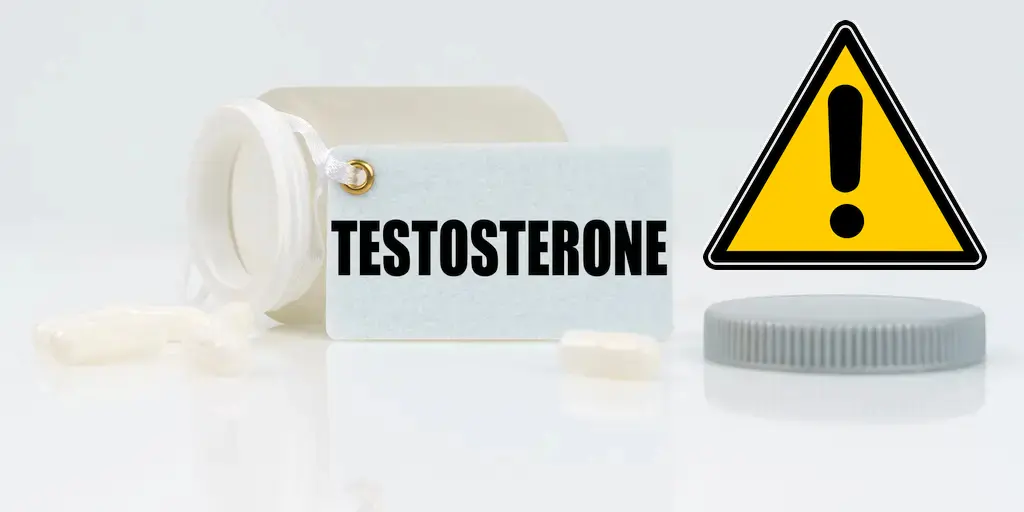 Are Testosterone Supplements Bad For You?
Testosterone boosters are a popular way for many men to replenish diminished T-levels that are essential for optimal health. Many testosterone supplements are safe to take when used as directed, but different types of testosterone boosters come with their own unique benefits and risks to health.
The the best way to be safe when using testosterone boosters is by taking a close look at the ingredients labels and choosing supplements that have been given the OK by your doctor – or at least have not been banned by the FDA.
While we carefully test, research, and vet the supplements that we recommend at Andro HQ, many of the brands currently being sold come from unreliable sources. The ingredients used by these companies may be impure, of low quality, or otherwise ineffective at increasing testosterone levels.
Some manufacturers don't disclose some or all of the ingredients used in their products, which can sometime include anabolic steroids. Anabolic steroids are synthetically-manufactured forms of testosterone that are tied to liver and kidney damage, and increased risk for prostate cancer and heart attack.
Why Take Testosterone Supplements?
Testosterone supplements are taken to help reduce or reverse the symptoms associated with low testosterone (aka, low T), including:
Low energy and fatigue
Brain fog
Low sex drive and/or erectile dysfunction
Depression
Loss of muscle mass
Decreased bone density
Hair loss
Gynecomastia (Enlarged breasts)
Causes of low testosterone in men include:
Aging process
Obesity
Disorders of the pituitary gland
Cancer treatments, such as chemotherapy, radiation, and hormone therapy for prostate cancer
Injury or infection of the testicles
Liver and kidney disease
AIDS
Diabetes
Certain genetic conditions
Use of testosterone therapy in women is limited. Some of the benefits that testosterone supplementation may provide to women include the following:
Increased libido
Treatment of hot flashes
Enhanced mood and cognitive function
Improved bone mineral density
Health Risks
Many men who have use testosterone boosters over the years have reported adverse reactions and side effects from using these products. Acute liver failure, severe abdominal pain, and kidney problems are just a few of the serious health issues that have been documented and tied to the use of certain testosterone supplements.(1)
Testosterone boosters that are obtained from disreputable sources, even when used as directed, have been found to pose serious health risks. Supplements made by dubious companies looking to make a quick buck can contain ingredients that just don't work, or that are even dangerous and/or illegal.
Always make sure the product you are purchasing comes from a reputable company that has a proven track-record of safety, effectiveness, and purity of ingredients. However, testosterone supplements sourced from unreliable sources aren't the only products that pose a potential health risk – legal prescription-based testosterone therapy treatments come with serious risks as well.
In fact, prescription testosterone treatments might create more problems than they solve. Research indicates a link between testosterone therapy supplements and heart problems.
One study found an increase in heart problems in men over the age of 65 after using testosterone gel.(2)
Further research involved two groups of men under the age of 65: one group with a history of heart problems, and one group of heart-healthy men. The findings showed that both groups had an increased risk for heart attack when taking testosterone therapy supplements.(3)
Additionally, while research findings are mixed, the use of testosterone replacement therapy (TRT) may increase your chances for developing heart problems and prostate cancer.(4, 5)
What Is The Safest Choice?
As we have seen, there are many risky testosterone products that are easily available for purchase, both legal and illegal, and with or without a prescription. Your safest option is to always do your research before taking any supplement – of both the ingredients and the manufacturer.
At Andro HQ, it is our mission to help you determine the good from the bad, which is why we thoroughly test and research the products that we recommend. We also strive to educate the consumer about why and how these products work so that you can make the best decision about which may be right for you and your specific individual needs.
Please refer to our list of the Best Testosterone Supplements for a detailed overview of our top choices.
It is important to note that while many testosterone supplements can be effective, they aren't able to permanently increase your testosterone levels. You will need to continue using these products to maintain any benefits gained.
However, as long as the product has been proven to be both safe and effective, then you will have little cause for concern. That said, to be on the safe side, you should always consult your physician before starting any new supplementation.
See Also: Testosterone Boosters Vs. Hormone Replacement Therapy
---
References
https://gainswave.com/blog/over-the-counter-testosterone-supplements/
https://www.health.harvard.edu/mens-health/is-testosterone-therapy-safe-take-a-breath-before-you-take-the-plunge
https://journals.plos.org/plosone/article?id=10.1371/journal.pone.0085805
https://academic.oup.com/jcem/article/103/5/1715/4939465#116523805
https://journals.plos.org/plosone/article?id=10.1371/journal.pone.0085805