Last Updated on June 1, 2023 by Jim Marshall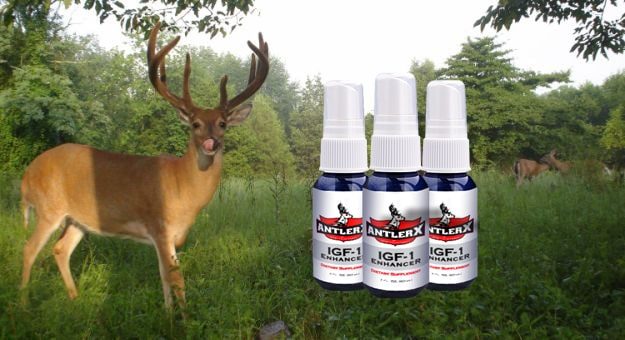 ---
***UPDATE*** Antler X is no longer being manufactured. However, we highly recommend what we believe to be an even better product, Sytropin. Check out our full Sytropin review or visit the Sytropin website for more details.
---
What is AntlerX?
If you want to take your fitness to the next level, you will almost certainly be interested in AntlerX. It's not only a highly effective IGF-1 booster, but it's our clear favorite as the best deer antler velvet spray available.
Made with a proprietary blend of super-premium deer antler velvet, minerals, and amino acids that naturally and safely boosts your body's own production of IGF-1, AntlerX can help you increase your muscle mass, strength, and endurance. And if you are a bodybuilder or athlete, using this spray will definitely give you an advantage with your results.
Before I dive further into the AntlerX product, I'll first cover what antler velvet is and why it's useful for physical training. Then, I'll touch on the ingredients that make up AntlerX, why those substances are beneficial, and the pros and cons associated with the product.
AntlerX Ingredients
Deer Antler Velvet
From the sounds of it, you can probably guess that the antler velvet found in AntlerX comes from antlers; specifically the antlers of deer, elk, moose and caribou. But what's more interesting is that it's not merely the antlers but the substance surrounding the cartilage and bone of growing antlers before they become fully actualized.
The antler velvet used in AntlerX is harvested from New Zealand animals and is said to have properties that increase strength and endurance, improve immune system function, facilitate muscle recovery, and reduce stress.
Now you can see why it might be used to help in sports performance.
China has used antler velvet for over 2,000 years, and Russian experiments with the velvet have shown astonishing results among even elite athletes. As a natural source of glucosamine, chondroitin, and collagen (all of which are used to support cartilage for healthy joints) it's clear that a product like AntlerX can be extremely beneficial to those looking to have better results in the gym or on the field.
What Else Does it Contain?
In addition to quality deer antler velvet, AntlerX also contains zinc, niacin, L-arginine, L-carnitine, L-glutamine, and Tribulus terrestris.
Zinc is essential because it helps to activate T lymphocytes, better known as T cells. T cells not only regulate our immune systems but they're also responsible for attacking infected and cancerous cells.
Long story short, for optimal health, zinc is imperative, and AntlerX has it.
Niacin is also known as vitamin B3, and B vitamins are incredibly essential to healthy body function. AntlerX probably includes niacin because of its properties that help lower cholesterol and your risk of heart disease.
If someone is training for a marathon or a bodybuilding competition, chances are their diet is important to them, and the inclusion of niacin should help achieve some of these health and fitness goals.
AntlerX also has a few amino acids including L-arginine, L-carnitine, and L-glutamine. Respectively, these amino acids assist with blood flow and circulation, help burn fat, and promote muscle repair.
By including each of these amino acids, AntlerX allows you to train harder and longer with increased circulation, to burn excess fat, and to repair muscles quickly.
The botanical ingredient found in AntlerX, Tribulus Terrestris, assists in lowering blood sugar and cholesterol levels.

How to Use AntlerX
The directions are pretty much simple and straight forward. Take 5 sprays in the morning, and 5 sprays at night.
You'll want to make sure to take the sprays on an empty stomach as well, so wait at least 20 minutes before meals to take your dosage.
Side Effects
Although there aren't any extreme side effects associated with antler velvet and the other ingredients in AntlerX, it's worth noting that (like everything else) AntlerX shouldn't be consumed in excess. As a supplement, AntlerX is not FDA-approved, and there hasn't been much scientific research done on antler velvet consumption in general.
Women who are pregnant or breastfeeding as well as people prone to hormone-triggered diseases like breast cancer and endometriosis should avoid antler velvet. As with any supplement, if you are taking other medications, it's best to speak with your health care provider to ensure AntlerX won't have harmful interactions with your existing regime.
Pros and Cons
As with many supplements these days, AntlerX is targeting high-performance athletes for a convenient way to get multiple ingredients without the hassle of powders and various tablets.
Another perk is the AntlerX 90-day guarantee that promises you'll love their product. Aside from paying shipping to send the bottles back if you don't like it, you won't have to pay for it if returned within a 90-day window.
AntlerX is all-natural, and produced without harming animals—the deer or elk shed their velvet naturally. This could be a pro for some people and a con for others since some don't want animals involved in the production of elements of their diet in any way, and to be fair, all-natural doesn't always mean better.
Depending on your preferences, this could also be either a pro or a con. AntlerX is a spray, so no injections, tablets, or smoothie-making is involved with this supplement. Some people hate taking pills, and most are probably opposed to injections, but at the same time, you might not appreciate that AntlerX is a spray if you enjoy a morning smoothie with supplement powder.
Whether AntlerX is right for you depends on your priorities. Being a convenient spray with all-natural ingredients, AntlerX is a simple way to enhance your training but may not be right for you if you prefer tablets, powders, or vegan products.
Does AntlerX Work?
I know there's a lot of debate out there when it comes to the effectiveness of deer antler-based products, but based upon my own experience using AntlerX I can say it absolutely does work, at least it did for me, anyway.
I experienced first-hand a number of noticeable benefits, namely:
A big increase in strength and energy gains that without a doubt improved my workout performance.
During the initial first few weeks I was thrilled with the muscle mass gains I was getting.
I also experienced a higher metabolism and rate of fat loss.
Recovery was a breeze.
The only real drawback I noticed was that these effects seemed to plateau after a few weeks and it got to the point where the gains weren't really increasing any more.
The AntlerX website says to use the spray for at least three months to experience the full results. In my opinion though, I would definitely recommend trying a cycle of 2-3 months on and 1 month off if you decide to try AntlerX out for yourself.
---