Last Updated on November 9, 2023 by Jim Marshall
Sytropin Review
Rating:
| | |
| --- | --- |
| | |
My Results:
Saw significant gains in lean muscle mass.
Experienced rapid weight loss.
Boosted my sex drive & energy levels.
Memory & focus were noticeably improved.
Similar effects to prescription HGH, although not as powerful.
---
What Is Sytropin?
Sytropin is an oral spray HGH supplement formulated with various "secretogogue" ingredients that are designed to increase the production of human growth hormone within your body, to potentially increase lean muscle mass, improve energy levels, promote weight loss, support healthy brain function, and much more.
Included in the formula are a number of certain growth factors and amino acids which have been shown to raise HGH levels. Not only that, but the makers of Sytropin even state that it offers benefits very similar to those experienced when taking doctor-prescribed HGH – but in a much more convenient and easy way.
Using Sytropin only requires that you administer two sprays under your tongue each morning, holding it there for two minutes before swallowing. In three month's time you should witness first-hand the full results, without experiencing any unpleasant side effects.
I know from personal experience that trying to separate fact from fiction when researching products online can be frustrating. The way I see it, my job is to help clear away the BS that's being pedaled out there so you can make an informed decision about whether or not Sytropin is right for you.
What is HGH?
Human Growth Hormone (or HGH) is a peptide hormone produced by the pituitary gland located at the base of the brain that helps with the growing process throughout your early years. It plays a crucial role in growth, body composition, cell repair, metabolism, and maintaining the health of various organs and tissues all through your life. HGH also boosts muscle growth, strength, and exercise performance while helping you recover from injury and disease.
As we age, our pituitary glands secrete less and less growth hormone. At or around the time we enter our 40's, HGH levels will be significantly lower, resulting in any number of unpleasant side effects, such as:
Loss of muscle mass
Increased body fat
Decreased bone density
Diminished capacity for exercise
Although banned by most sports governing bodies, GH injections have been used for years by professional athletes and bodybuilders looking to improve muscle mass, strength, stamina and performance. Since growth hormone also improves  the healing rate for sore joints, aching muscles, wounds and injuries, it's highly valued by sports athletes for aiding in physical rehabilitation and recovery.
Is This a Legal Supplement?
So now we should point out a crucial distinction. In general, there are two classifications of HGH supplementation: Those made with synthetic human growth hormone, and those that are designed to naturally enhance the body's own production of growth hormone.
Synthetic HGH is only available by injection from a doctor, and requires a prescription. The only way to legally obtain a prescription for synthetic prescription HGH is if you have a medical condition that necessitates it – and loss of HGH due to the aging process is not considered a valid reason for this type of treatment.
On the other hand, over-the-counter HGH supplements, pills and sprays do not require a prescription or contain any illegal substances. Also referred to as "HGH boosters", or "HGH releasers", these products are far less expensive and much more convenient to use than their prescription-only counterparts.
Sytropin falls into the second category, meaning it's safe and legal to take, and stimulates the pituitary gland to naturally secrete more of its own growth hormone. This supplement does not contain any banned or prohibited substances, so even professional athletes can use it.
So knowing that this oral spray contains no actual human growth hormone, can its formula really increase HGH levels?
Sytropin Ingredients
Although we do know many of the ingredients and nutrients used in their proprietary formula, the makers of Sytropin are tight-lipped when it comes to exact quantities. This is probably due to having perfected the right balance of ingredients to deliver the greatest results.
However, when combined, the blend of amino acids, extracts and nutrients used can support muscle growth, recovery, and overall well-being. They also play a role in hormone production, neurotransmitter synthesis, and immune system support.
Here are the ingredients that are found in the Sytropin oral Spray:
Alpha-GPC: Stimulates hormone secretion and produces the neurotransmitter acetylcholine, improving memory, learning power, and mental concentration.
Glycine: Helps balance natural hormones by increasing significant proteins in the body and reducing anxiety and stress levels.
Gaba: Enhances plasma and healthy neurotransmission, influencing fat reduction and improving the nervous system's functioning.
L-DOPA BEAN EXTRACT: A natural dopamine booster that aids in increasing muscle mass.
L-Arginine: Involved in muscle growth through protein synthesis and cell multiplication.
L-Isoleucine: Aids in muscle rehabilitation, wound healing, tissue growth, and improving sex libido.
Moomiyo Extract: An Ayurvedic treatment that offers anti-aging and anti-inflammatory properties.
Ornithine Alpha-Ketoglutarate: Enhances exercise strength with its anabolic and immuno-enhancing properties.
L-Glutamine: This is an amino acid that plays a crucial role in muscle recovery after strenuous workouts. It also supports the immune system, aids in cell hydration, and boosts the production of growth hormone. L-Glutamine can also help in maintaining the health of the intestines.
L-Tyrosine: Another amino acid, it's essential for the production of several neurotransmitters, including dopamine, norepinephrine, and epinephrine. These neurotransmitters play a role in mood regulation, alertness, and overall cognitive function. L-Tyrosine can also help combat stress and improve mental clarity.
L-Valine: This is a branched-chain amino acid (BCAA) that is vital for muscle metabolism, tissue repair, and the maintenance of a proper nitrogen balance in the body. It's also essential for energy conversion and can help with endurance during physical activities.
L-Lysine: An essential amino acid, meaning the body cannot produce it, and it must be obtained from dietary sources. It plays a role in calcium absorption, building muscle protein, and the body's production of hormones, enzymes, and antibodies. L-Lysine is also known for its potential benefits in preventing and treating cold sores.
As many of you will notice, many of the ingredients listed are amino acids. Studies have shown that many of these amino acids have a direct impact on HGH levels. For example, research shows that l-arginine can improve growth hormone production by as much as 300%.
And when combined with l-lysine this effectiveness can be increased by up to 10 times!
Besides amino acids, other ingredients included have a positive impact on HGH levels as well. Alpha GPC has been scientifically shown to improve HGH production when combined with exercise. And GABA is also known to encourage the release of human growth hormone.
Even though these ingredients are pretty much all available separately, the real secret to Sytropin's effectiveness is how they are combined in its proprietary formula. I don't know exactly what the ratios and quantities of the listed ingredients are, but whatever it is, it appears to work well.
However, it's my opinion that if you're to experience the best results, combining this product with regular exercise and a healthy diet is the only way to go, if you're not doing that already. This is really key to getting growth hormone levels cranking.
So if you're going to try this supplement, I recommend making it a part of an overall healthy lifestyle plan – and you'll likely be amazed at the results you get.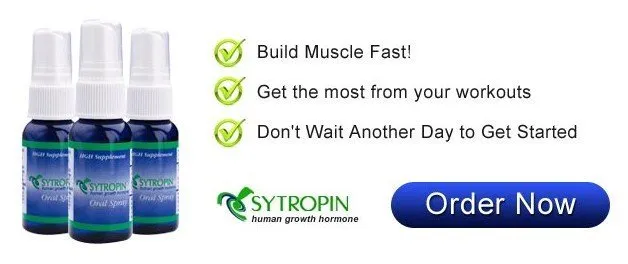 So now that we know about the ingredients used, what about side effects?
Sytropin HGH Spray Side Effects
According to the makers of Sytropin, this product does not cause any negative side effects, although in my opinion it's possible that some individuals may experience upset digestion due to some of the ingredients included.
Also, alpha-gpc has been known to cause headaches, sleeplessness, and skin rash in some users, and l-dopa has been linked to hair loss and confusion in extreme cases.
That said, in the vast majority of cases the majority of users will experience little side effects when taken as directed, if any. However, synthetic HGH injections, which are different from supplements like Sytropin, can lead to side effects if misused.
OK, if you've read this far, you might be interested in knowing where to buy this product.
Where to Buy Sytropin HGH Spray
If you're wondering where to buy Sytropin, it can be purchased directly from the manufacturer's website where they offer discounted pricing when buying multiple units.
Sytropin is available in the following options:
Purchasing a one-month supply ( 1 bottle) costs $59.95
A three-month supply (3 bottles) is $119.95
For a six-month supply (6 bottles) the price is $199.95 (An insanely good deal – get it while it lasts!)
An shipping fee of $6.95 will be added for USPS Priority Mail, while the fee for international shipping is $11.95.
Sytropin also offers a 90-day money-back guarantee, so if for any reason you're not happy with your results you can return your purchase for a full refund, minus the return shipping fee.
Bottom Line: Does Sytropin Work?
If you're in your late 30's/early 40's or older, and starting to feel like you're losing your edge, then Sytropin is definitely a supplement you should consider. Based on my research of ingredients and user feedback, as well as my own experience using it, I believe it to be one of the most reputable HGH supplements that I have reviewed.
And if you needed another reason to give it a try, it's backed with the 90-day money-back guarantee. You can always return whatever is left of the product for a full refund if you're not happy with your results for any reason.
So if you're worried about getting screwed over with a worthless product, there's absolutely no risk to you – but what you won't regret are the potential benefits you could experience. With virtually zero side effects and a high success rate among those who've used it, there's not much reason NOT to try it for yourself.
Having said all that, Sytropin is a great product, but it's not going to produce magical results by itself. Most users find it works far better when added to a healthy diet and exercise plan.
Whether you're goal is getting ripped, boosting athletic performance, or just restoring your HGH levels for the anti-aging benefits, I believe many of you will be shocked at the results you'll get when adding Sytropin to a proper fitness plan.
It's already made a difference in many people's lives by helping restore some of their youthful vigor. Instead of struggling to maintain your health and vitality as you grow older, there's a natural solution you can use for your very own fountain of youth.
FAQs (Frequently Asked Questions)
1. How Does Sytropin Work?
Sytropin stands out among bodybuilding supplements due to its unique combination of homeopathic secretagogues, proven growth factors, and powerful amino acid releasers. This blend maximizes the efficiency of each dose, making it the top non-prescription bodybuilding supplement currently on the market.
Supplementation with secretagogues has been associated with a range of positive effects. These include reductions in body fat, enhancements in lean muscle mass, improved skin tone, elevated energy levels, and deeper sleep. The benefits of secretagogues have been extensively documented in various medical and scientific publications.
Sytropin is one of the rare supplements that provides all the anti-aging advantages of prescription drugs, minus the inconvenience and discomfort of injections. Many of the growth hormone pills and liquids available are metabolized by the stomach and liver, resulting in reduced effectiveness. However, Sytropin's oral delivery system allows for superior absorption of active ingredients through the mouth's lining.
2. Where Is Sytropin HGH Spray For Sale?
Sytropin is available for purchase from their official website at Sytropin.com.
You have the option of purchasing packages in a one-month, three-month, or six-month supply. The manufacturer provides a risk-free trial for ninety days with a full money-back guarantee. If you aren't completely satisfied with your purchase, your total cost will be refunded, excluding the shipping charges.
In addition, they also provide a quality guarantee. Although the FDA does not regulate supplements like Sytropin, they do supervise the manufacture of such supplements. The makers of Sytropin assert that they are FDA compliant and strictly adhere to all the regulations set by the agency, ensuring the quality of their tested ingredients and facilities.
3. Is Sytropin a Scam?
It's essential to approach any health supplement with caution. Here are some general guidelines:
Research the Product: Look for scientific studies or clinical trials that support the claims made by the product. If a product claims to have significant health benefits, there should be scientific evidence to back it up. Sytropin's ingredients are scientifically researched and are supported by clinical evidence.
Check for Reviews: Look for genuine customer reviews on multiple platforms. While reviews can be manipulated, a pattern of negative reviews or concerns about the product's efficacy can be a red flag. Based on my research and personal experience, Sytropin receives mostly positive reviews from customers, and even has an A+ rating from the BBB (Better Business Bureau).
Check for Money-back Guarantees: Some reputable companies offer a money-back guarantee if you're not satisfied with the product. This can be a sign that the company stands behind its product, but always read the fine print. Sytropin has a 90-day money-back guarantee, giving you up to three months to try their product and still be eligible for a complete refund.
Keep in mind that before starting any new supplement, it's always a good idea to consult with a healthcare professional. They can provide guidance on whether the supplement is right for you and if it can interact with any medications you might be taking.
---
Sytropin
Increases Muscle Mass & Size
9.6/10
Greater Stamina & Endurance
9.5/10
Faster Recovery & Healing
9.4/10
Pros
Effectively helps increase lean muscle mass.
A safe and natural alternative to HGH injections.
Speeds up healing and recovery rate.
Increases energy and sex drive.
Promotes weight loss.
Cons
Only available online.
Don't expect the exact same effects as HGH injections from the doctor.
For best results, may require 6-8 weeks of use.