Last Updated on June 1, 2023 by Jim Marshall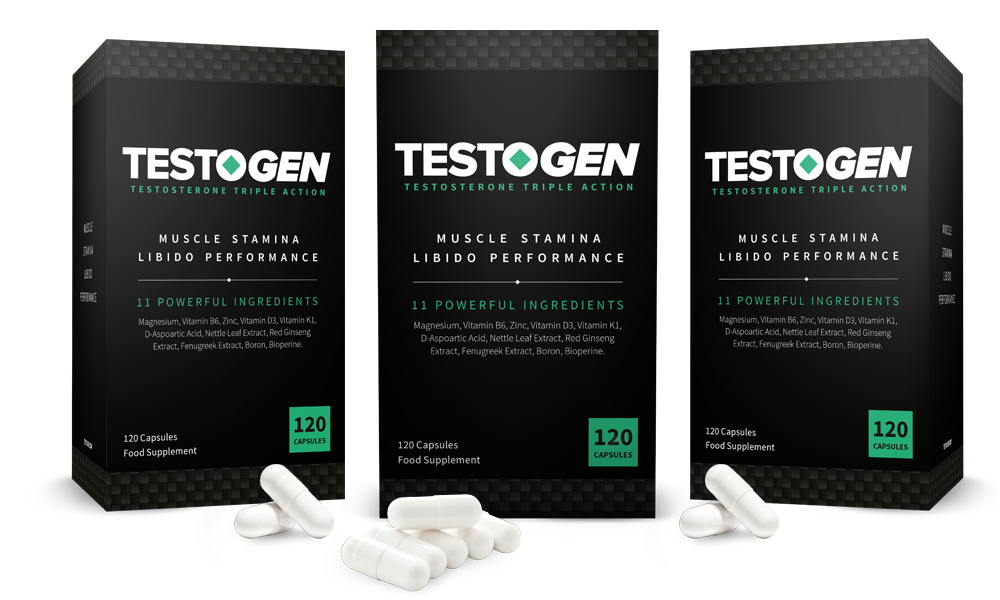 ---
Rating:
| | |
| --- | --- |
| | |
Results:
Noticeable gains in muscle mass.
Had a big boost in sex drive.
Saw moderate fat loss.
Experienced quicker recovery between workouts.
Did not equal the effects of actual testosterone injections, however.
---
Do you feel like you're constantly running out of energy, regardless of how much you sleep? Does working out often leave you feeling flat, fatigued, or downright exhausted?
Or regardless of how hard you hit the weights, does it seem next to impossible to gain muscle or lose body fat?
If you answered yes to any of these questions, you may need a boost in testosterone.
Having low levels of testosterone can cause a wide variety of unpleasant symptoms, and they only get worse with age. Although steroids and TRT (testosterone replacement therapy) can be helpful, their use is associated with negative side effects that can cause more harm than good.
For this reason, men are increasingly opting for safer alternatives such as testosterone boosters to renew their overall health and well-being.
Testogen (Testogen.com) is one such supplement that I decided to try and test for myself. Testogen was developed to trigger the production of testosterone and boost testosterone levels to reduce or reverse the effects of low T – but does it really?
Do not ask, I will tell you. Continue reading to learn how my experiment with this product went.
WHAT IS TESTOGEN?
Testogen is an all-natural dietary supplement that was designed to safely and effectively increase testosterone levels. It is made up of 11 active ingredients that have been clinically shown to:
Build muscle.
Boost strength and stamina.
Increase energy and reduce fatigue.
Lose stubborn body fat.
Increase sexual drive and performance.
Improve sleep quality.
Since the ingredients used in Testogen have been backed by clinical research, the potential for any side effects is extremely rare. According to the manufacturer, just by taking 4 capsules of Testogen daily, you can boost testosterone your levels in as quickly as two weeks.
HOW DOES TESTOGEN WORK?
Testogen is effective in three ways:
Triggers the production of testosterone.
Raises testosterone levels safely.
Slows testosterone's conversion into estrogen.
To better understand how it works, it's necessary to review the main ingredients in the Testogen formula.
INGREDIENTS
Boron
A naturally-occuring trace mineral, boron has been demonstrated to substantially reduce SHBG levels, thereby increasing the levels of free testosterone. Boron can reduce levels of estradiol (a type estrogen) and increase the amount of free testosterone in the body.(1)
D -Aspartic Acid
D -Aspartic Acid, or DAA, is an amino acid naturally produced by the body that is necessary for testosterone production. Research showed that men taking D-Aspartic Acid for just 12 days saw a 42% average increase in testosterone levels.(2)
Fenugreek Extract
Fenugreek is a plant long used in traditional medicine. It contains large amounts of a compound called saponins. One study showed that Fenugreek extract can substantially raise testosterone levels and increase strength.(3) A longer 3-month study showed that fenugreek increased testosterone levels in 90% of the volunteers.(4)
Korean Red Ginseng Extract
Also called Panax Ginseng, Korean Red Ginseng provides documented increases to testosterone and sex drive. One study found that Ginseng can boost both total and free testosterone.(5) Another study showed that Ginseng improved the sex drive among men suffering with erectile dysfunction (ED) over an 8-week period.(6)
Nettle Leaf Extract
Nettle leaf is believed to prevent SHBG (sex hormone binding globulin) from binding to testosterone. One study found that nettle leaf can decrease SHBG-binding by as much as 67%.(7) Further, additional research found hat nettle leaf extract can assist in blocking the conversion of testosterone into estrogen.(8)
Zinc
An essential trace element commonly found in red meat, poultry, and fish, Zinc is crucial for supporting healthy testosterone levels. Research showed that a diet low in zinc resulted in a significant drop in testosterone levels after 5 months. However, a diet rich in zinc can increase testosterone levels by up to 50%.(9)
Testogen' ingredients are proven to be safe and contain no harmful additives. Furthermore, these ingredients have been backed up with scientific research showing that they support and improve healthy testosterone levels.
TESTOGEN BOOSTER DROPS
In addition to the supplement capsules, the makers of Testogen also offer a liquid formula, which they call Liquid Booster Drops. The Booster Drops enables your body to absorb the active ingredients directly into your bloodstream, delivering rapid results while you're on-the-go.
The Booster Drops deliver seven potent, natural ingredients directly into your bloodstream for rapid results – giving you an instant boost in energy, focus, strength and power while triggering the natural production of testosterone. These include:
Epimedium Sagittatum – A potent herb that supports blood circulation, which has many positive effects on the body and brain, including more energy and better concentration.
Pfaffia Paniculata – Also known as Suma Root, this plant is native to the Amazon rain forest and has long been used for increasing testosterone.
Vitamin D – Vitamin D is produced through sunlight exposure and can be found in certain foods. However, it is almost impossible to get enough without supplementation.
Korean Ginseng Root – Known for its ability to increase levels of free testosterone and plasma, ginseng has very beneficial effects on many aspects of male health.
Moringa Oleifera – Researchers studied the effects of this plant on stressed participants and found that it can reduce male sexual dysfunction caused by stress.
Zinc – Zinc supports healthy testosterone levels, but just like Vitamin D, the typical diet just doesn't provide enough.
L-Arginine – Research has demonstrated a correlation between L-Arginine supplementation and a ubstantial increase in male sexual function.
The Testogen Booster Drops are perfect for pre-workouts, late nights, early starts, long shifts – just about any time you need an on-the-go boost to quickly up your game.
For more information about how the Booster Drops work, visit the product page at Testogen.com.
TESTOGEN REVIEWS: What Actual Customers Are Saying
Testogen claims that they have helped over 100,000 men across the globe increase their testosterone levels. Naturally, I wanted to see what others using the product had to say, so I decided to take a look a few of their testimonials.
User Review: Franco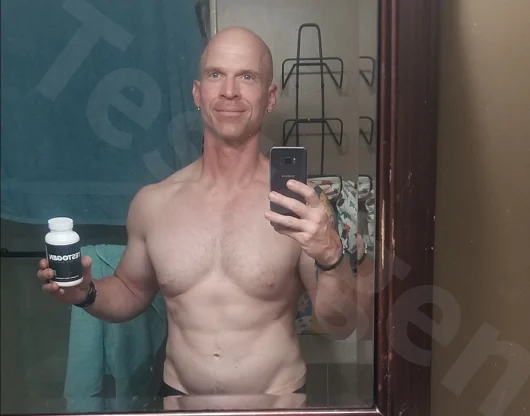 Now that I've been using it for about a month, my workouts are great, I feel good, I'm full of energy… I feel that it has been helpful for me and I want to continue to use it.
User Review: Brent
I have to say this is probably one of the best products I've ever used. I feel like I look better than I have, I feel like I did when I was back in my 20's again. For the price, this is definitely the best there is…. This is really good stuff, especially if you pair it with the Booster Drops. I'm getting amazing workouts and I'm definitely going to continue using this and recommend it to anybody I see.
User Review: Cale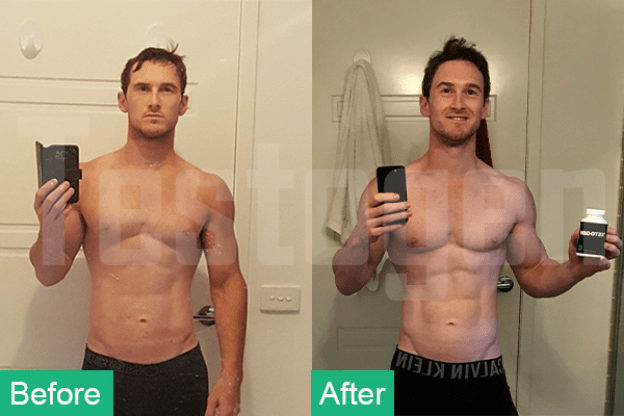 I have been using your product for about 7 weeks now and I honestly must say I do feel and see the changes, I definitely without a doubt feel more energetic even after a long days work, I have always been a healthy eater so this boost has definitely come from Testogen and nothing else. I have been able to train 5 days a week for 45mins per day and still find energy to cook dinners for the family.
User Review: Greg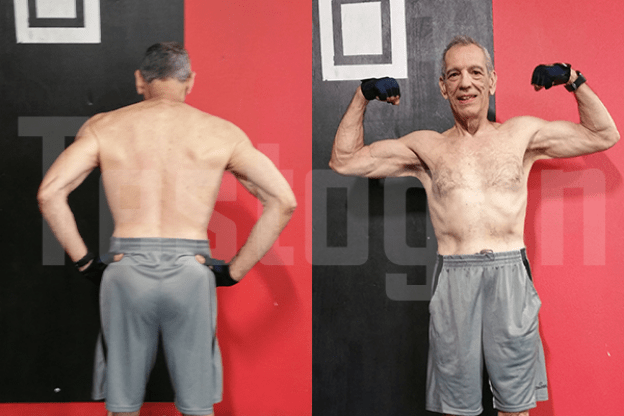 I am 71 years old. Currently at 165 lbs. At 6 ft. height. I have a relatively low body fat and do not want to lose any weight.

I train at the gym 5 days a week doing compound lifts, isolation body building exercises and limit my cardio to 20 minutes a day. My diet consists of Protein, Good fats and clean carbs.

My goal is to increase strength and gain more muscle. I feel that Tesogen is helping me achieve these goals. A better alternative for me than Testosterone therapy.
You can see many more customer reviews, including pictures and videos, by going to the Testogen customer review page.
MY TESTOGEN RESULTS
Encouraged by Testogen's positive customer reviews and clinically-researched ingredients, I ordered my own 2-month supply so I could run an 8-week cycle.
Here's what I experienced:
My shipment arrived in just two days, which was surprisingly fast.
After just 3 or 4 days I felt… better, with more motivation and focus.
I next noticed that I was having deeper and more restful sleep, and waking up refreshed.
Then I noticed that my natural level of energy was higher, I had the motivation to tackle my work, evening exercise, and my wife… in the bedroom.
After week 1 my workout performance was noticeably improved, and I was able to add 2-3 reps to my sets with perfect form.
By the end of week 4 I was seeing substantial improvements and began doing heavier lifting.
By the fifth week I saw a definite difference in the mirror, with a flatter stomach and greater definition all over. In fact, my wife was amazed at the results.
By month 2 I saw significant changes in virtually every aspect of health and fitness, both physically and mentally, that positively affected all areas of my life. I gained muscle and lost fat, looked better, felt better, performed in the bedroom better. In short, I was very happy with my results.
Bottom line: Testogen helped me feel years younger and gave a huge boost to my training performance and results. I felt more motivated and more like the old self that I'd almost forgotten.
In fact, it's such a good product that it's included in our list of the Top Testosterone Boosters.
However, if you are expecting results that are equal to what you would get from testosterone injections, you might be disappointed. No natural supplement can equal the effects of steroids, but the trade-off is the lack of risk and side effects, as well as the difference in cost and convenience.
All in all, I'd say that Testogen is a great option if you're looking to gain muscle, lose fat, and increase your energy, motivation, and sex drive. If you decide to try it for yourself, it's backed with a 100-day unconditional money-back guarantee, so you can return any items for a full refund if you don't get the results you expect.
For current pricing and more information, visit Testogen.com.
---
References:
https://pubmed.ncbi.nlm.nih.gov/21129941/
https://pubmed.ncbi.nlm.nih.gov/19860889/
https://www.ncbi.nlm.nih.gov/pmc/articles/PMC2978122/
https://www.ncbi.nlm.nih.gov/pmc/articles/PMC5278660/
https://www.ncbi.nlm.nih.gov/pmc/articles/PMC3735289/
https://pubmed.ncbi.nlm.nih.gov/9063034/
https://pubmed.ncbi.nlm.nih.gov/7700987/
https://pubmed.ncbi.nlm.nih.gov/17509841/
https://pubmed.ncbi.nlm.nih.gov/8875519/
TESTOGEN
Builds Muscle Mass
9.5/10
Improves Mental Function
9.3/10
Pros
Supports the growth of lean muscle mass.
Promotes fat loss.
Ramps up sex drive and performance.
Increases physical strength and stamina.
Boosts mood and brain function.
Safe to use and no side effects.
Cons
Limited availability, only available online.
Is not as powerful as actual testosterone injections.
A little pricey.