Last Updated on June 1, 2023 by Jim Marshall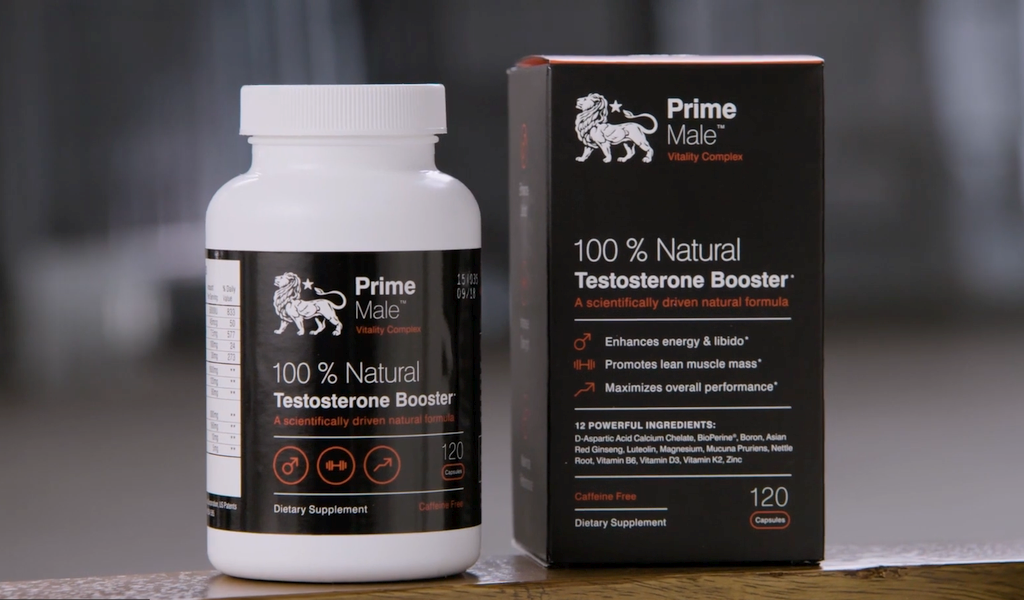 It's pretty much common knowledge that testosterone is an important hormone in men's health. But as we age, testosterone levels begin to drop, and that's when the problems start.
Prime Male testosterone booster (PrimeMale.com) is a natural supplement that was developed specifically for men who have experienced an age-related decrease in their testosterone levels.
Also called Prime Male Vitality Complex, this product contains natural ingredients like D-Aspartic Acid, Nettle Root Extract, Korean Red Ginseng, and more. All these ingredients work together to help support healthy levels of free-testosterone in the body for improved energy and libido levels as well as enhanced overall health.
Before taking a testosterone booster like Prime Male, it's important to do your research and make sure that it's the right product for you. In this Prime Male review, we'll help inform you by exploring how this product works, if it's effective, and the potential benefits it provides.
What Is Prime Male Testosterone Booster?
Prime Male is a testosterone booster designed to naturally increase levels of the male hormone. It contains natural ingredients that have been clinically proven to promote healthy testosterone production. It helps men who are suffering from low testosterone levels, as well as those looking to maximize their performance in the gym and in the bedroom.
Testosterone is an essential hormone for men because it plays a role in muscle development, energy levels, sex drive, bone density, and overall health. Unfortunately, testosterone levels naturally decrease with age and can lead to various negative effects and medical conditions.
Prime Male is designed to boost testosterone production while also providing other benefits such as improved libido and increased stamina. The ingredients found in the supplement are scientifically proven to be safe and effective for boosting testosterone levels.
The main ingredient in Prime Male is D-aspartic acid, which has been clinically proven to increase testosterone levels by up to 45%. Other ingredients in the formula include ginseng, magnesium, zinc, nettle root and more, which all work together synergistically to help support healthy hormone production.
In addition, Prime Male also contains vitamins and minerals that can help improve overall health.
Prime Male is a natural supplement that can help boost testosterone levels safely and effectively. By taking this supplement on a regular basis, men can experience improved physical performance, increased libido and improved overall health.
Benefits Of Taking Prime Male
The potential perks of taking a testosterone booster like Prime Male are plentiful. Boosting your testosterone production can bring beneficial changes to many areas of your life, from physical health to psychological well-being.
First and foremost, increasing natural testosterone can have positive impacts on physical health. Taking a testosterone booster can help:
Increase muscle mass
Enhances strength and stamina
Strengthen bones and joints
Improves heart health
Lowers cholesterol levels
Reduces inflammation in the body
Improves sleep quality
Helps with insomnia
Increases energy levels during the day
Additionally, boosting testosterone production can also have positive psychological effects. It can improve cognitive performance and memory, reduce stress levels and anxiety, and increase libido. It has even been suggested that it could act as a natural antidepressant to improve moods.
Although more research is needed, some studies even suggest that taking a testosterone booster could potentially reduce the risk of certain cancers due to its anti-inflammatory properties.
Taking a natural testosterone booster like Prime Male can be an effective way for men to regain hormone balance without pharmaceutical drugs or surgery. Doing so may help to restore energy levels, increase muscle mass and strength, improve heart health, enhance sleep quality, boost cognitive functions, reduce stress levels and anxiety – all while potentially reducing cancer risk down the line.
Ingredients In Prime Male
Prime Male's formula contains twelve natural ingredients intended to provide a range of benefits, including increased libido, stronger erections and improved energy levels. Each ingredient in Prime Male has been proven to be effective in numerous clinical studies published in respected medical and scientific journals.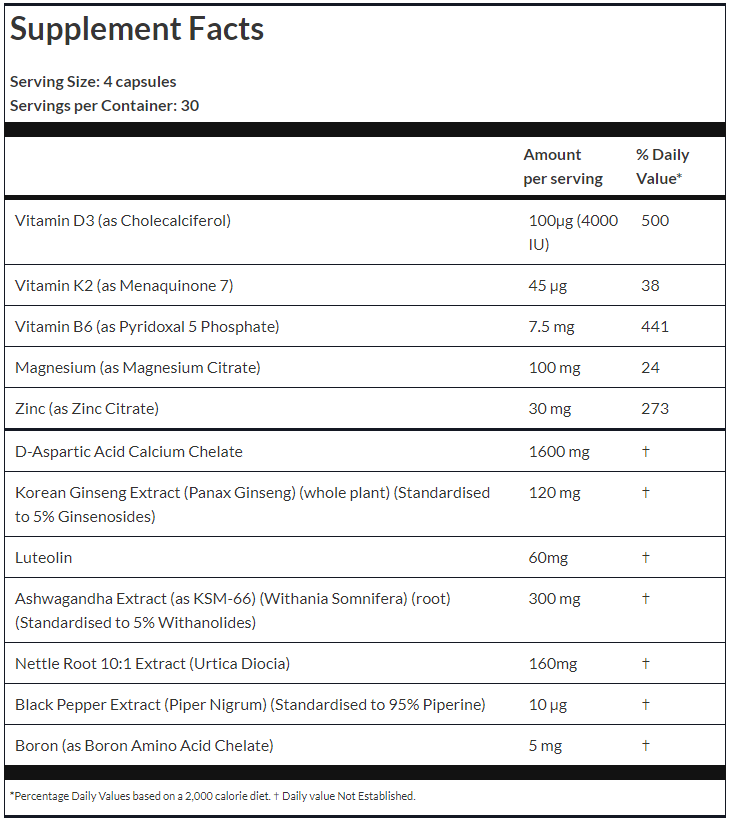 D-Aspartic Acid (DAA) has been shown to increase the production of luteinizing hormone (LH). This hormone is responsible for stimulating the production of testosterone in men's bodies.
Vitamin D3 has been included in the formula because it helps to regulate testosterone levels and can also support muscle strength and growth.
Vitamin K2 substantially increases serum testosterone levels by improving the action of certain enzymes within the testicles.
Zinc can help to release more luteinizing hormone (LH), allowing the body to produce more testosterone. LH is needed to trigger testosterone production in the testes.
Magnesium can reduce levels of a protein called SHBG, or sex hormone binding globulin, which increases the amount of free testosterone in the body (around 60% of your testosterone is unavailable to your body to use because it's bound to SHBG).
Korean Ginseng  has been shown in studies to increase testosterone levels and to provide significant improvements in erection quality, performance, and sexual satisfaction
Luteolin inhibits the action of aromatase, which reduces the body's production of estrogen. It also triggers androgen production to make more testosterone.
Nettle Root Extract contains compounds called lignans that can help increase testosterone by binding with SHBG, making more testosterone freely available. Nettle also decreases estrogen levels.
BioPerine increases the absorption of other ingredients in the formula by as much as 2000%.
Ashwagandha has been used as a form of medicine for centuries, and has been found to help reduce anxiety and stress, lower blood sugar levels. but most importantly, it has been linked to an increase in testosterone levels, according to studies.
Boron Citrate has an impact on hormones, blood plasma, vitamin D, inflammation, bone health, and brain function.
Vitamin B6 triggers androgen receptors that tell the testes to start adding more testosterone into your blood stream. It also alleviates problems with mood and sex drive.
All these ingredients combine to make Prime Male an effective supplement for boosting men's testosterone level naturally.
How To Take Prime Male
Prime Male is best taken as one capsule four times per day, preferably with a meal or a snack. For best results, doses should be taken evenly throughout the day – for example with breakfast, lunch, a snack, and dinner.
It's best to take it at the same times every day for a consistent dosage of the active ingredients. For optimal results, users should also maintain a healthy diet and exercise regularly while taking Prime Male.
When using Prime Male, it takes time for your body to adjust and benefit from the active ingredients in the supplement. Most users see peak results after 8 weeks of regular use, but some may need up to 12 weeks before they notice the greatest changes in their free testosterone levels.
By regularly taking Prime Male as directed and giving your body adequate time to adapt, the benefits you get from using this supplement will be far more noticeable .
Potential Side Effects
It's important to note that Prime Male does not come with any severe side effects. However, users have occasionally reported headaches or mild stomach discomfort when using this supplement. To reduce the chance of experiencing these side effects, you can take the supplement with food, or reduce their dosage if necessary.
While rare, other potential side effects due to elevated testosterone levels should be considered before taking it, such as acne, increased aggression, irritability and mood swings.
In any case, it's always a good idea to consult with a medical professional before starting any supplementation regimen, and to always stick to the manufacturer's recommended dosage. By following the instructions on the bottle and getting regular checkups with a doctor, you can ensure you're taking the supplement safely and effectively.
Who Should Avoid Using Prime Male?
Individuals who should not take Prime Male testosterone booster include:
Those under the age of 18.
Women who are pregnant or breastfeeding.
Anyone with a known medical condition or taking any prescription medication.
it's important to consult a healthcare professional before taking any supplement, including Prime Male. This supplement contains ingredients that may interact with certain medications, such as anticoagulants and nonsteroidal anti-inflammatory drugs (NSAIDs).
Therefore, anyone taking medication should talk to their doctor before taking Prime Male to ensure there will be no adverse reactions. Additionally, it's recommended that individuals check with their doctor if they have any allergies or sensitivities in order to determine if they could react adversely to any of the ingredients found in Prime Male.
Prime Male does offer many benefits but it's not suitable for everyone. It's essential for users to consider the potential risks associated with taking a testosterone booster before making a decision on whether it's right for them or not.
Cost And Refund Policy
When it comes to cost and refund policy, Prime Male is a great choice. The product is not cheap, with a one-month supply bottle of 120 capsules costing $75.00 USD. If you buy four month's worth of Prime Male, you basically get one month free, so 4-for-3.
You can also buy combo packages that include both the Prime Male testosterone booster (Vitality Complex) and their virility supplement (Prime Male Enhance), which is specially formulated for enhancing sex drive and male sexual performance.
Shipping is free in the US and UK, and all orders are shipped same-day or next business day. Global shipping is also available to a number of countries worldwide.
Unfortunately, the refund policy is not the greatest when compared to other similar products, however. You can still return your order for a refund, but the guarantee only covers unused and unopened containers.
Pros and Cons
Prime Male Pros
Boosts testosterone production
Provides numerous health benefits
Made with all-natural ingredients
Safe to take with minimal side effects
No hidden ingredients
Shipping is free to US and UK
Global shipping available
Several secure payment options
Discounts on bulk orders
Prime Male Cons
Requires taking four doses per day.
May take 2 months of regular use to see full benefits
Not intended for men under 18
Returns only accepted on unopened packages
Conclusion
Here are some final considerations that can help you decide if Prime Male is the right choice for you. In the short-term, users may experience improved energy and libido, but it can take up to two months to see the full effects of taking Prime Male.
Customers have nothing to lose by trying out Prime Male — except maybe some extra body fat! With such an effective product at such an affordable price point and backed by a generous money-back guarantee, it's no wonder why so many people are turning to this testosterone booster to get back in shape again.
Athletes may benefit from Prime Male as well, since it contains natural ingredients which have been clinically tested to increase testosterone. Moreover, it does not interact with any other drugs or medications and contains no stimulants.
Frequently Asked Questions
How Long Does It Take To See Results From Taking Prime Male?
Many users report feeling an increase in energy and stamina almost immediately, while others may experience changes in body composition after a few weeks. It all depends on your individual body chemistry and how quickly it responds to the supplement.
The key factor when determining how long it takes to see results from taking Prime Male Testosterone Booster is consistency. Taking the recommended dosage daily is essential for achieving optimal results, so be sure to stick with it!
Regular exercise is also beneficial for boosting testosterone levels; if you combine consistent use of the supplement with regular physical activity, you may be able to see quicker results than without exercise.
Is Prime Male Suitable For Athletes?
Prime Male contains several natural ingredients that have been known to increase testosterone levels and improve muscle growth, energy levels and stamina. This could provide obvious benefits for athletes who want to take their performance up a notch or two.
Additionally, all of the ingredients are natural and legal, and none of them are prohibited from use by sports-governing bodies. However, it's important to keep in mind that the results will depend on how well your body responds to the supplement and how much effort you put into your training regime.
Who Makes Prime Male Testosterone Booster?
Prime Male is made by Roar Ambition Ltd., a reliable UK-based manufacturer that has a good reputation for producing high-quality supplements. Roar Ambition are pioneers in the manufacture of advanced natural health supplements based on cutting-edge, scientifically driven formulations.
The company is affiliated with some of the world's major payment services, such as Amazon Pay, PayPal, MasterCard, and Visa. These financial institutions guarantee Roar Ambition's reliability. The business is registered in England and Wales, and has been licensed by these governments.
Does Prime Male Contain Any Stimulants?
While none of these ingredients in Prime Male are specifically considered to be stimulants, some may act to naturally increase energy levels.
Green tea extract contains caffeine and other compounds (called catechins) which have been found to increase alertness and energy levels in humans. Similarly, Panax ginseng root extract has also been found to be associated with improved mental alertness, although further research is needed to understand the full effects it has on human physiology.
Maca root powder has also been associated with increased energy levels due to its properties as an adaptogen, which helps the body better cope with stressors such as heavy physical activity or lack of sleep. Although not all users experience an energizing effect from maca root powder, some people report feeling more energetic after taking it regularly for several weeks or months.
It's important to note that while these ingredients may act as mild stimulants, they won't cause any major spikes in energy or alertness like traditional stimulants such as caffeine might do. Furthermore, if you're concerned about potential side effects from taking Prime Male testosterone booster then it's best to talk to your doctor before starting any new supplement regimen.
Is Prime Male Suitable For Vegetarians and Vegans?
Prime Male contains no animal products, and the labeling on the packaging clearly states that it's suitable for vegetarians and vegans alike. It consists of plant extracts and minerals which are naturally found in food sources and does not contain any animal byproducts.
Furthermore, its manufacturing practices do not involve animal testing or the use of any animal products as part of their process. The company also does not manufacture any other non-vegetarian supplements so there's no chance of cross contamination from other animal sources.