Last Updated on August 31, 2023 by Jim Marshall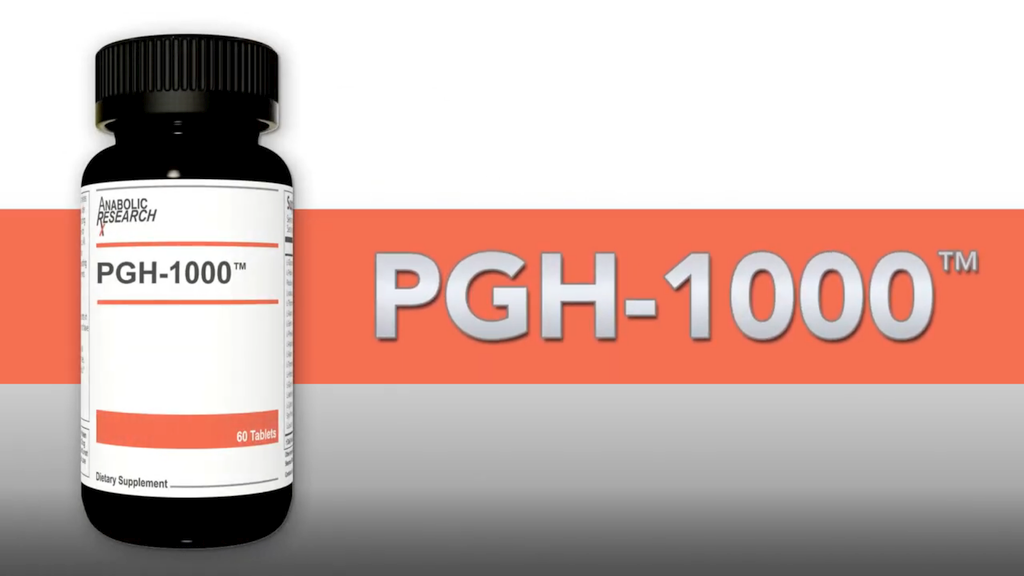 PGH-1000 Review
Rating:
| | |
| --- | --- |
| | |
Results:
It increased lean muscle mass.
I saw noticeable weight loss improvements.
My energy & stamina levels were boosted.
I experienced improvement in mood &motivation
Healing & recovery were a breeze.
---
Growth hormone and IGF-1 supplements can sometimes be a controversial topic because they are easily misunderstood and typically confused with substances like steroids. There is considerable debate about how effective they are, and it doesn't help that many brands are, in fact, pure crap.
So, to set the record straight and lessen the confusion, I'll go into the facts about these types of supplements, and specifically a product called PGH-1000.
What is PGH-1000?
PGH-1000 is a powerful supplement manufactured by Anabolic Research (Anabolics.com). Formerly marketed as Pituitary Growth Hormone (pGH), PGH-1000 is offered as an effective way to increase IGF-1 levels, and is considered a best-kept-secret among bodybuilders and athletes alike.
For those who don't know, IGF-1 is a direct precursor to human growth hormone, and when it increases, so does HGH. In fact, one of the best ways to measure human growth hormone is by getting a reading on IGF-1 levels.
By combining a proprietary blend of amino acids with pituitary gland extract, PGH-1000 is able to boost IGF-1 levels naturally in the body, producing a noticeable increase in body composition, muscle growth, and fat metabolism.
PGH-1000 Ingredients
This product contains a proprietary blend of amino acids in specific measurements, combined with pituitary extract, to create a formula like no other.
Now, amino acids are readily available in all sorts of sports nutrition products, so there's nothing unique about that. But something about this specific combination of aminos in these specific amounts is what makes this formula so special.
The ingredients for PGH-1000 includes:
L-Glutamic Acid
L-Proline
Pituitary Substance
L-Isoleucine
L-Threonine
L-Alanine
L-Serine
L-Phenylalanine
L-Arginine
HCIL-Valine
L-Tyrosine
L-Histidine
L-Glycine
L-Methionine
L-Cystine
Soy Protein
L-Leuicine
There are also a few additional ingredients, which are basically what you would call fillers. These include things like dicalcium phoshphate, stearic acid, magnesium stearate, silicon dioxide, pharmaceutical glaze (shellac, povidone), Soy.
What Are the Benefits of PGH-1000?
Apart from the natural purposes of IGF-1, including how it makes sure adolescents grow normally, there are also countless other benefits and potential reasons why you'd want to add extra amounts of PGH-1000 to your body.
With the greater ability to add on additional lean muscle mass, the benefits to bodybuilders and weightlifters is obvious. Some people might also use PGH-1000 in conjunction with other performance-enhancing supplements in order to improve athletic skills.
In addition, people have eve  seen positive results in the appearance and quality of their skin by taking PGH-1000 as it seems to reduce signs of aging.
Are There Any Side Effects of Taking PGH-1000?
When taking illegal HGH injections, especially in excess, there are a number of unpleasant and dangerous side-effects that can occur, including:
Nerve, joint, and muscle pain
The growth of cancerous tumors
Swelling
Numbing and tingling of the skin
Liver damage
Breast growth in men (gynecomastia)
Some of the most concerning side effects relate to the growth of cancers, hands, feet, and facial features as well as enlarged breasts in males. It does make sense that too much growth hormone would cause not only growth in muscles and bone but also in things you don't necessarily want to grow.
In contrast, Anabolic Research products cause little or no side effects. Unlike actual growth hormone that's injected externally, PGH-1000 increases your body's own production of IGF-1, naturally.
However, any notable incidence of side effects may indicate a need to stop or discontinue use. If you take prescription drugs, suffer from a medical condition, have low or high blood pressure, or a gastric ulcer, you would definitely want to consult a physician or medical professional before use.
How to Use PGH-1000
This supplement contains 60 tablets and is designed to be taken on a 30 day cycle. Take 1 tablet twice per day with a full glass of water.
Your body will gradually begin to interact with the PGH-1000 formula to boost it's own natural production of the powerful IGF-1 hormone.
Manufacturer's Video
Pros and Cons of Anabolic Research PGH-1000
Anabolic Research has created tablets that promote PGH-1000 production to improve overall health, brain function, muscle growth, stamina, tighter skin, and fat loss. Aside from all the benefits of taking PGH-1000, it's also a major plus that there are no injections necessary when using this product, and no harmful side-effects.
Just take two tablets per day, and you're good to go. Plus, they offer a discount — and who doesn't love a discount?
Buy two bottles of Anabolic Research PGH-1000 and get an entire bottle for free.
While the discount is great, it still may seem rather expensive for a supplement, but that depends on your priorities and what you're hoping to achieve by increasing your levels of PGH-1000.
Another potentially significant downside to this supplement is that it could cause you to test positive for a drug screening.
WARNING:
if you're a professional athlete taking PGH-1000, you could potentially test positive for
performance-enhancing drugs
that could get you disqualified from certain competitions. Anabolic Research suggests checking which tests your organization use to make sure you should be using this product during your training.
PROS
Effectively helps increase lean muscle mass.
Speeds up healing and recovery rate.
Increases physical stamina.
Causes quick loss of stubborn fat deposits.
A safe and natural alternative to HGH with no side-effects.
CONS
Fairly expensive.
Not available in stores.
Similar, but not as effective as actual HGH injections.
May test positive for performance enhancing drugs.
Bottom Line
I saw undeniable gains while using PGH-1ooo. While growth hormone supplementation is a controversial subject, it can have significant benefits for a range of conditions as well as help to build muscle mass. If you feel it's right for you, Anabolic Research's PGH-1000 capsules are an easy way to give it a try.
PGH-1000 is a safe, non-prescription, natural, and legal alternative to HGH injections. It's the perfect performance enhancement supplement for athletes and those who like to train their bodies to the extreme.
---
See Also: The Top 5 Best HGH Supplements
---